UNITED STATES OF AMERICA

---




...from New England's pilgrims and puritans to the influence of the French in Louisiana, the Gold Rush in California to the Civil War in Missisipi, there are numerous attractions in the USA that will tell you about the country's history and make your visit entertaining and educational...

USEFUL INFORMATION

Location:
Situated in North America, bounded by the Pacific Ocean, the Bering Sea, the Arctic Ocean, the Atlantic Ocean, the Gulf of Mexico and the Caribbean Sea.

Area:
9,826,675 sq km

Neighbouring countries:
The United States has land borders with Canada and Mexico (Canada 8,893 km, including 2,477 km with Alaska, Mexico 3,141 km) and territorial water boundaries with Canada, Russia and the Bahamas.

Coastline:
19,924 km

Climate:
Mostly temperate, but tropical in Hawaii and Florida, arctic in Alaska, semiarid in the great plains west of the Mississippi River, and arid in the Great Basin of the southwest; low winter temperatures in the northwest are ameliorated occasionally in January and February by warm chinook winds from the eastern slopes of the Rocky Mountains

Elevation extremes:
lowest point: Death Valley -86 m, highest point: Mount McKinley 6,198 m

Population:
307,212,123 (July 2009 est.)

Ethnic groups:
white 79.96%, black 12.85%, Asian 4.43%, Amerindian and Alaska native 0.97%, native Hawaiian and other Pacific islander 0.18%, two or more races 1.61% (July 2007 estimate)

Religions:
Protestant 51.3%, Roman Catholic 23.9%, Mormon 1.7%, other Christian 1.6%, Jewish 1.7%, Buddhist 0.7%, Muslim 0.6%, other or unspecified 2.5%, unaffiliated 12.1%, none 4% (2007 est.)

Languages:
English 82.1%, Spanish 10.7%, other Indo-European 3.8%, Asian and Pacific island 2.7%, other 0.7% (2000 census)

Getting to USA:
The majority of visitors to the USA arrive by air using either an international carrier or one of the several US airlines. The main international airports are in Boston, New York, Washington DC, Atlanta, Denver, Houston, Seattle, San Francisco, Anchorage, Miami, Dallas, Los Angeles, Chicago, and Orlando and there are connecting flights from these airports to hundreds of other US cities. You can also fly direct to many other cities but the flights are less frequent and usually they are more expensive too. As well as air travel, there are several overland border crossings between the US and Canada and Mexico.

Visas:
Before traveling to the U.S., a citizen of a foreign country must generally obtain a nonimmigrant visa for temporary stay. Most Canadian citizens and many citizens from THE Visa Waiver Program countries can come to the U.S. without a visa if they meet certain requirements.There are various types of nonimmigrant visas for temporary visitors to travel to the United States, if you are not a U.S. citizen or U.S. lawful permanent resident. The purpose of your intended travel and other facts will determine what type of visa is required under U.S. immigration law. It's important to have information about the type of nonimmigrant visa you will need for travel, and the steps required to apply for the visa at a U.S. Embassy or Consulate abroad.

Customs regulations:
Wearing apparel, jewelry, toiletries, hunting and fishing equipment, cameras, portable radios, and similar personal effects are exempt from duty if: they are for personal use; they belong to you; and they accompany you into and out of the United States.

Nonresidents who are at least 21 years old may bring in, free of duty and Internal Revenue Tax, up to one liter of alcoholic beverage--beer, wine, liquor--for personal use. Quantities above the one-liter limitation are subject to duty and internal revenue tax.

In addition to federal laws, you must also meet state alcoholic beverage laws, which may be more restrictive than federal laws. This means that if the state in which you arrive permits less liquor, wine, or beer than you have legally brought into the United States, that state's laws apply to your importation of alcoholic beverages for personal use.

You may include in your personal exemption not more than 200 cigarettes (one carton) or 50 cigars or two kilograms (4.4 lbs.) of smoking tobacco, or proportionate amounts of each. An additional 100 cigars may be brought in under your gift exemption.

Cigars of Cuban origin are generally prohibited entry, even for personal use. Check with the Customs attaché at the American Embassy if you have any questions on this subject.

Health and safety:
Insurance The USA offers possibly the finest health care in the world. The problem is that, unless you have good insurance, it can be prohibitively expensive. It's essential to purchase travel health insurance if your regular policy doesn't cover you when you're abroad.

Bring any medications you may need in their original containers, clearly labeled. A signed, dated letter from your physician that describes all medical conditions and medications, including generic names, is also a good idea.

If your health insurance does not cover you for medical expenses abroad, consider supplemental insurance. Find out in advance if your insurance plan will make payments directly to providers or reimburse you later for overseas health expenditures.

Time:
The United States spans 6 time zones. It shares the main four time zones with Canada (Eastern Time, Central Time, Mountain Time and Pacific Time). Hawaii Time and Alaska Time are separate Time zones

Daylight Saving Time Since 2007: Daylight Saving Time begins for most of the United States at 2 a.m. on the second Sunday of March. Time revert to standard time at 2 a.m. on the first Sunday in November.

Daylight Saving Time, for the U.S. and its territories, is NOT observed in Hawaii, American Samoa, Guam, Puerto Rico, the Virgin Islands and the state of Arizona (not the Navajo Indian Reservation, which does observe). Navajo Nation participates in the Daylight Saving Time policy, due to its large size and location in three states.

Currency:
The United States dollar (sign: $; code: USD) is the unit of currency of the United States. The US dollar is divided into 100 cents (¢). Coins come in denominations of 1¢ (penny), 5¢ (nickel), 10¢ (dime), 25¢ (quarter), the seldom-seen 50¢ (half-dollar) and the $1 coin. Quarters are most commonly used in vending machines and parking meters. Bills come in $1, $2 (rare), $5, $10, $20, $50 and $100 denominations.

Credit cards
Major credit cards are almost universally accepted. In fact, it's almost impossible to rent a car or make phone reservations without one (though some airlines require your credit card billing address to be in the USA – a hassle if you're booking domestic flights once here). It's highly recommended that you carry at least one credit card; Visa and MasterCard are the most widely accepted.

Carry copies of your credit card numbers separately. If your credit cards are lost or stolen, contact the company immediately.

Accommodation:
For most smaller cities and towns the only options for sleeping will be a hotel or bed and breakfast. Some larger cities are starting to have a hostel scene but they vary greatly. The USA has hotels that can be extremely dingy and scary to the super high end and everything in between.

For people on a smaller budget camping is always an option, mainly in the western part of the country. There are privately owned developed camp grounds like KOA and almost all national and state parks and monuments have some sort of developed camping. For the more rustic/cheap traveler camping on most BLM, forset service and wilderness area land is a free option as long as certain rules are followed.

Food and restaurants :
Food in the US can be as diverse as the country is large. It is however very hard to avoid the myriad of chain-operated fast food venues that can be found on virtually every street corner. Naturally enough, the American staples of fried chicken, hamburgers, pizza and hot dogs are all well represented as is Mexican fast food and an increasing trend towards somewhat healthier sandwich shops. Restaurants often follow with similar offerings though usually cooked to a somewhat higher standard. Of course, there are many high quality restaurants within the US as well, particularly in the larger cities.

Many visitors to the US are baffled by the strict adherence to tipping protocol. Not tipping appropriately is seen as either very poor manners or an expression of disgust at the service offered. Tipping percentage usually ranges from 10% to 20% of the total bill, with 15% being a relatively average tipping amount. In some cases, particularly with larger parties (say 8 or more), a 15% tip could already be added on to the bill. You should always review the bill to ensure this isn't the case before adding your own tip. It is not necessary to tip in fast food restaurants.

Electricity:
Electricity in United States of America / USA is 120 Volts, alternating at 60 cycles per second. If you travel to United States of America / USA with a device that does not accept 120 Volts at 60 Hertz, you will need a voltage converter

Fixed public holidays:
• New Year's Day [Jan. 1 every year]
• Martin Luther King Day [3rd monday in Jan]
• Presidents Day (observed) [3rd monday in Feb]
note: Presidents Day is also Washington's Birthday (observed) • Memorial Day (observed) [last monday in May]
• Independence Day [July 4th every year] federal employees extra day off for July 4th
• Labour Day [1st monday in Sept]
• Columbus Day (observed) [2nd monday in Oct]
• Veterans' Day [Nov. 11 every year]
• Thanksgiving Day [4th thursday in Nov]
December federal employees extra day off for Christmas
• December 25, 2010 (saturday): Christmas Day [Dec. 25 every year]

Transportation in the country by air:
Traveling by air is the fastest way to move between major cities. There is no national carrier in the US, where the industry is fully privately run. Competition is strong on frequently traveled routes, resulting in lower fares.

There are literally dozens of airlines, some of them having routes only within states or between a limited number of states, while other fly almost anywhere. It's beyond the scope of this article to list all airlines, but the biggest airlines are American Airlines, Continental Airlines, Northwest Airlines andDelta Air Lines, which are the most used airlines by foreigners arriving from other countries and many people using connecting flights afterward. Many of them have air passes as well, which enable people to add 3 to 10 flights within the USA at discounted fares.

JetBlue Airways is a well known budget airline, although rates are competitive with many other airlines.

Transportation in the country by Rail:
Passenger rail services in the US are run by Amtrak. Although freight travel in the US is busier than anywhere else in the world, passenger numbers are low, due mostly to the convenience of domestic air travel. Traveling by train is most popular in the Northeastern United States, between the major cities of Washington, D.C., New York City and Boston. But there are great journeys to be made if you are a train enthusiast and you can travel the main routes from coast to coast by train if you want. Chicago to Seattle or Chicago to California are beautiful trips.

There are money saving passes, like the USA Railpass (15 or 30 days) and the North America Railpass (30 days, also valid in Canada), which are especially economical when doing a lot of train travel in a short period of time.

Motoring and car hire:
Driving around the US is a popular choice for many travelers. Not only is it a relatively cheap way to get around, but it also allows visitors to see the beautiful countryside on offer. Many international rental companies have cars and these include Hertz, Avis, Dollar, Thrifty, Budget and Alamo. Most companies will require you are at least 25 years of age, although younger people might be able to rent cars at slightly higher rates and with some insurance differences as well. An national driver's license is usually enough, but an additional international one is recommended.

To help you get around by car, gas stations usually sell regional and national maps, although many drivers choose to get driving directions on their home computers prior to their journeys; MapQuest and Google Maps are popular websites for obtaining directions. Drivers can get directions in the midst of their travels by calling 1-800-Free411, which will provide text message directions, or they can stop and ask locals for nearby directions. Americans are usually happy to give directions to travelers.

The USA has an extensive interstate highway system that makes for fast travel around the country. On most interstate highways the speed limit will increase to 65 to 80 mph depending on the state and population density. The western States tend to have higher speed limits. One of the downsides of the interstate is that fast travel and avoiding most medium cities makes for a lot of similar fast food chains and motels.

There are also national, state, county and Indian highways. These roads are usually only two lanes and go into the center of towns. Many of these roads will have lower speed limits in towns of around 30 mph and in the country side around 65 mph. Local police officers make lots of money by giving out of state people speeding tickets therefore do not speed when in small towns. To reach most sights outside of major cities will a require a combination of using the interstate and more local highways.

Getting around by Bus:
Greyhound is the main bus service in America and services almost all towns and cities. Although time consuming, Greyhound is very reasonably priced and has many discount deals, including the popular Discovery Pass discount programs.





National Holidays
---
New Year's Day
January 1 every year
New Year's Day is the first day of the year. It is a public holiday, often celebrated with fireworks at the stroke of midnight as the new year starts.
---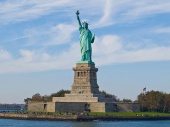 Statue of Liberty
Photo: William Warby
---
Martin Luther King Day
3rd Monday in January
Martin Luther King Jr. Day is a United States Federal holiday marking the birthdate of Rev. Dr. Martin Luther King, Jr.. It is observed on the third Monday of January each year, which is around the time of King's birthday, January 15. King was the chief spokesman for nonviolent activism in the civil rights movement, which successfully protested racial discrimination in federal and state law. He was assassinated in 1968.
---
Washington's Birthday
3rd Monday in February
Washington's Birthday is a United States federal holiday celebrated on the third Monday of February. It is also commonly known as Presidents Day (or Presidents' Day). As Washington's Birthday or Presidents Day, it is also the official name of a concurrent state holiday celebrated on the same day in a number of states.
---
The White House
Photo: upstateNYer
---
Memorial Day
Last Monday in May
Formerly known as Decoration Day, it commemorates U.S. men and women who died while in the military service.[1] First enacted to honor Union soldiers of the American Civil War (it is celebrated near the day of reunification after the Civil War), it was expanded after World War I.
---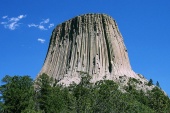 Devils Tower National Monument
---
Independence Day
July 4th every year
Independence Day, commonly known as the Fourth of July, is a federal holiday commemorating the adoption of the Declaration of Independence on July 4, 1776, declaring independence from the Kingdom of Great Britain. Independence Day is commonly associated with fireworks, parades, barbecues, carnivals, fairs, picnics, concerts, baseball games, political speeches and ceremonies, and various other public and private events celebrating the history, government, and traditions of the United States. Independence Day is the national day of the United States
---
Labour Day
1st Monday in September
Traditionally, Labor Day is celebrated by most Americans as the symbolic end of the summer. The holiday is often regarded as a day of rest and parades. Speeches or political demonstrations are more low-key than May 1. Forms of celebration include picnics, barbecues, fireworks displays
---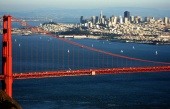 San Fransisco
---
Columbus Day
2nd Monday in October
Columbus Day first became an official state holiday in Colorado in 1906, and became a federal holiday in 1934. However, people have celebrated Columbus' voyage since the colonial period. In 1792, New York City and other U.S. cities celebrated the 300th anniversary of his landing in the New World. In 1892, President Benjamin Harrison called upon the people of the United States to celebrate Columbus Day on the 400th anniversary of the event. During the 400-year anniversary in 1892, teachers, preachers, poets and politicians used Columbus Day rituals to teach ideals of patriotism.
---
Veterans' Day
November 11 every year
The largest summer festival in Hamburg is the Alster-Vergnügen, which takes place from August 30 through September 2, 2002. Featuring everything from street theatre to music and art on the waterfront in Hamburg, the 'Venice of the North' is a magnificent host for this upbeat, exciting festival.
---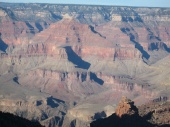 Grand Canyon
Photo: EBG
---
Thanksgiving Day
4th thursday in November
Thanksgiving or Thanksgiving Day, presently celebrated on the fourth Thursday in November, has been an annual tradition in the United States since 1863. Thanksgiving was historically a religious observation to give thanks to God.
---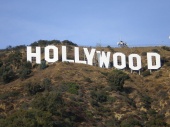 Hollywood Los Angeles
---
Christmas Day
December 25 every year
---