USA

---




LAS VEGAS





Las Vegas is the most populous city in Nevada and an internationally renowned major resort city for gambling, shopping and fine dining. Las Vegas, which bills itself as The Entertainment Capital of the World, is famous for the number of casino resorts and associated entertainment. A growing retirement and family city, it is the 28th most populous city in the United States with an estimated population of 558,383 (2008).

But even if not settled in Las Vegas, it's never too late to become a gamer and with the online games Canada choices, you can enjoy games morning, noon and night. Players will love the game choices that they have and can find everything from craps and blackjack to roulette and even beyond.

The Eiffel Tower, Las Vegas
Photo PKG

Established in 1905, Las Vegas officially became a city in 1911. With the growth that followed, at the close of the century Las Vegas was the most populous American city founded in the 20th century (a distinction held by Chicago in the 19th century). The city's tolerance for various forms of adult entertainment earned it the title of Sin City, and this image has made Las Vegas a popular setting for films and television programs. On the other hand, Las Vegas also has the highest number of churches per capita of any major U.S. city. Outdoor lighting displays are everywhere on the Las Vegas Strip and are seen elsewhere in the city as well. As seen from space, the Las Vegas metropolitan area is the brightest city on Earth.

Caesars Palace, Las Vegas
Photo PKG

The name Las Vegas is often applied to unincorporated areas that surround the city, especially the resort areas on and near the Las Vegas Strip. This 4 mi (6.4 km) stretch of Las Vegas Boulevard is mainly in the unincorporated communities of Paradise and Winchester, and continues partly into unincorporated Enterprise.

The Palazzo, Las Vegas
Photo PKG

Las Vegas has an arid climate with low precipitation year round, just over 100 mm annually. From June to September, average daytime temperatures are between 35 and 40 °C, sometimes hitting 45 °C. Nights are pleasantly warm during this time. Winter days are between 15 and 20 °C, with nights around zero. Occasionally, snow is possible during this time. March to May and October and November are pleasant months for a visit.













National Holidays
---
New Year's Day
January 1 every year
New Year's Day is the first day of the year. It is a public holiday, often celebrated with fireworks at the stroke of midnight as the new year starts.
---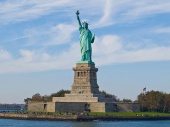 Statue of Liberty
Photo: William Warby
---
Martin Luther King Day
3rd Monday in January
Martin Luther King Jr. Day is a United States Federal holiday marking the birthdate of Rev. Dr. Martin Luther King, Jr.. It is observed on the third Monday of January each year, which is around the time of King's birthday, January 15. King was the chief spokesman for nonviolent activism in the civil rights movement, which successfully protested racial discrimination in federal and state law. He was assassinated in 1968.
---
Washington's Birthday
3rd Monday in February
Washington's Birthday is a United States federal holiday celebrated on the third Monday of February. It is also commonly known as Presidents Day (or Presidents' Day). As Washington's Birthday or Presidents Day, it is also the official name of a concurrent state holiday celebrated on the same day in a number of states.
---
The White House
Photo: upstateNYer
---
Memorial Day
Last Monday in May
Formerly known as Decoration Day, it commemorates U.S. men and women who died while in the military service.[1] First enacted to honor Union soldiers of the American Civil War (it is celebrated near the day of reunification after the Civil War), it was expanded after World War I.
---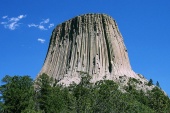 Devils Tower National Monument
---
Independence Day
July 4th every year
Independence Day, commonly known as the Fourth of July, is a federal holiday commemorating the adoption of the Declaration of Independence on July 4, 1776, declaring independence from the Kingdom of Great Britain. Independence Day is commonly associated with fireworks, parades, barbecues, carnivals, fairs, picnics, concerts, baseball games, political speeches and ceremonies, and various other public and private events celebrating the history, government, and traditions of the United States. Independence Day is the national day of the United States
---
Labour Day
1st Monday in September
Traditionally, Labor Day is celebrated by most Americans as the symbolic end of the summer. The holiday is often regarded as a day of rest and parades. Speeches or political demonstrations are more low-key than May 1. Forms of celebration include picnics, barbecues, fireworks displays
---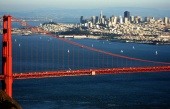 San Fransisco
---
Columbus Day
2nd Monday in October
Columbus Day first became an official state holiday in Colorado in 1906, and became a federal holiday in 1934. However, people have celebrated Columbus' voyage since the colonial period. In 1792, New York City and other U.S. cities celebrated the 300th anniversary of his landing in the New World. In 1892, President Benjamin Harrison called upon the people of the United States to celebrate Columbus Day on the 400th anniversary of the event. During the 400-year anniversary in 1892, teachers, preachers, poets and politicians used Columbus Day rituals to teach ideals of patriotism.
---
Veterans' Day
November 11 every year
The largest summer festival in Hamburg is the Alster-Vergnügen, which takes place from August 30 through September 2, 2002. Featuring everything from street theatre to music and art on the waterfront in Hamburg, the 'Venice of the North' is a magnificent host for this upbeat, exciting festival.
---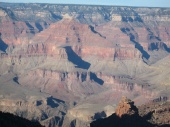 Grand Canyon
Photo: EBG
---
Thanksgiving Day
4th thursday in November
Thanksgiving or Thanksgiving Day, presently celebrated on the fourth Thursday in November, has been an annual tradition in the United States since 1863. Thanksgiving was historically a religious observation to give thanks to God.
---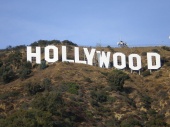 Hollywood Los Angeles
---
Christmas Day
December 25 every year
---