USA

---




SAN DIEGO




San Diego, named after Saint Didacus, is the second-largest city in California and the ninth largest city in the United States, located along the Pacific Ocean on the west coast of the United States. San Diego has a population of 1,279,329 (July 2008 estimate).

Downtown San Diego
Photo EBG

San Diego was rated the fifth best place to live in 2006 by Money Magazine. According to Forbes the city of San Diego ranks as the fifth wealthiest in the United States. San Diego's biggest industries are manufacturing, the military, and tourism.

Macy's San Diego
Photo PKG

San Diego's economy is largely composed of agriculture, biotechnology/biosciences, computer sciences, electronics manufacturing, defense-related manufacturing, financial and business services, ship-repair, ship-construction, software development, telecommunications, wireless research, and tourism. The presence of the University of California, San Diego (UCSD) with the affiliated UCSD Medical Center promotes research in biotechnology.

Balboa Park, San Diego
Photo EBG

Balboa Park is America's largest urban cultural park. It contains diversified museums ranging from horticultural to astronomical. The place is home to Botanical Building's sublime lily pond, El Prado etc. Balboa Park is also home to the Children's Museum, and the Fleet Science Center.

Museum Of Man, San Diego
Photo EBG

Sights and Activities

Sea World is home to the famous killer whale named Shamu and several other stunning marine animals. Watch the acrobatic skills of Shamu and her buddies. There are various exciting and spine-tingling rides too like Journey to Atlantis, Shipwreck Rapids, and many more.

The world-famous San Diego Zoo is divided into two parks; one located in Balboa Park is a traditional Zoo, and the other is a Wild Animal Park located north of the city. Expect to spend a full day exploring the zoo. The entire San Diego zoo accommodates more than 4000 creatures ranging from giant pandas, kangaroos, and gorillas all housed in natural environments.

If you are a history lover then head to Old Town. It's full of traditional Mexican restaurants and shops. Enjoy the mariachi players strumming the sounds of Mexican music.

Old Town, San Diego
Photo EBG

The charming seaside town of La Jolla has lots to offer. The town is expensive and filled with stunning mansions. Shopping malls and dining restaurants are situated along Prospect Street. Stroll along Coast Boulevard or the La Jolla Cove for the most scenic views.

Enjoy San Diego nightlife at The Gaslamp Quarter. It is lively and always buzzing. Enjoy live music after dinner at restaurants which are mainly housed within restored Victorian commercial buildings.

The Cabrillo National Monument is a restored lighthouse featuring the statue of Juan Rodriguez Cabrillo, the first Portuguese explorer to land in San Diego rest here. It's an amazing vantage point to see migrating gray whales or enjoy magnificent views of San Diego's harbor and skyline. During winters you can also spot Mexico in the distance.

Check out Belmont Park, an amusement park at the Mission Beach boardwalk. It features two major landmarks: the Plunge and the Giant Dipper.

Coronado Beach, San Diego
Photo EBG

Take a leisurely walk along Coronado Beach and enjoy the sunset. Roam around the Embarcadero, home to watercrafts, aircraft carrier, Seaport village, and a maritime-themed shopping area.











National Holidays
---
New Year's Day
January 1 every year
New Year's Day is the first day of the year. It is a public holiday, often celebrated with fireworks at the stroke of midnight as the new year starts.
---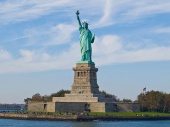 Statue of Liberty
Photo: William Warby
---
Martin Luther King Day
3rd Monday in January
Martin Luther King Jr. Day is a United States Federal holiday marking the birthdate of Rev. Dr. Martin Luther King, Jr.. It is observed on the third Monday of January each year, which is around the time of King's birthday, January 15. King was the chief spokesman for nonviolent activism in the civil rights movement, which successfully protested racial discrimination in federal and state law. He was assassinated in 1968.
---
Washington's Birthday
3rd Monday in February
Washington's Birthday is a United States federal holiday celebrated on the third Monday of February. It is also commonly known as Presidents Day (or Presidents' Day). As Washington's Birthday or Presidents Day, it is also the official name of a concurrent state holiday celebrated on the same day in a number of states.
---
The White House
Photo: upstateNYer
---
Memorial Day
Last Monday in May
Formerly known as Decoration Day, it commemorates U.S. men and women who died while in the military service.[1] First enacted to honor Union soldiers of the American Civil War (it is celebrated near the day of reunification after the Civil War), it was expanded after World War I.
---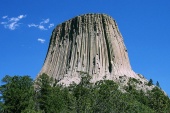 Devils Tower National Monument
---
Independence Day
July 4th every year
Independence Day, commonly known as the Fourth of July, is a federal holiday commemorating the adoption of the Declaration of Independence on July 4, 1776, declaring independence from the Kingdom of Great Britain. Independence Day is commonly associated with fireworks, parades, barbecues, carnivals, fairs, picnics, concerts, baseball games, political speeches and ceremonies, and various other public and private events celebrating the history, government, and traditions of the United States. Independence Day is the national day of the United States
---
Labour Day
1st Monday in September
Traditionally, Labor Day is celebrated by most Americans as the symbolic end of the summer. The holiday is often regarded as a day of rest and parades. Speeches or political demonstrations are more low-key than May 1. Forms of celebration include picnics, barbecues, fireworks displays
---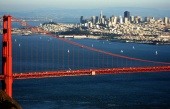 San Fransisco
---
Columbus Day
2nd Monday in October
Columbus Day first became an official state holiday in Colorado in 1906, and became a federal holiday in 1934. However, people have celebrated Columbus' voyage since the colonial period. In 1792, New York City and other U.S. cities celebrated the 300th anniversary of his landing in the New World. In 1892, President Benjamin Harrison called upon the people of the United States to celebrate Columbus Day on the 400th anniversary of the event. During the 400-year anniversary in 1892, teachers, preachers, poets and politicians used Columbus Day rituals to teach ideals of patriotism.
---
Veterans' Day
November 11 every year
The largest summer festival in Hamburg is the Alster-Vergnügen, which takes place from August 30 through September 2, 2002. Featuring everything from street theatre to music and art on the waterfront in Hamburg, the 'Venice of the North' is a magnificent host for this upbeat, exciting festival.
---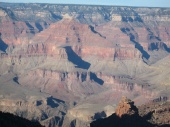 Grand Canyon
Photo: EBG
---
Thanksgiving Day
4th thursday in November
Thanksgiving or Thanksgiving Day, presently celebrated on the fourth Thursday in November, has been an annual tradition in the United States since 1863. Thanksgiving was historically a religious observation to give thanks to God.
---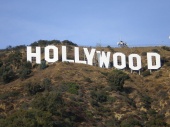 Hollywood Los Angeles
---
Christmas Day
December 25 every year
---