SWEDEN

---




ACTIVITY HOLIDAYS

Whether you prefer gentle or more intensive activities you can find something to suit you over virtually the whole country. But let's start in the south in Skåne, which has 900 km of footpaths and 800 km of marked cycle trails. Småland, which has some 5,000 lakes, is ideal for fishing and canoeing. You can rent your own red cottage in a forest or by a lake and just relax!

The island of Gotland is ideal for a cycling holiday. Roads follow the coastline, and there are plenty of places where you can have a swim or spend the night in beautiful natural surroundings. Plenty of cycling packages are available.

Many activities on the west coast in Bohuslän are related to the sea. Sailing between the many islands and charming fishing villages is a fantastic experience. There's excellent sea fishing throughout the year, thanks to the great depths and ideal water temperatures. Cod, mackerel and dogfish are just some of your likely catches.

Inland in Västergötland you can discover the magical forests of Tiveden and many fine fishing waters. Västergötland is also perfect for a canoeing expedition, and its many paths are ideal for a trek on horseback or on foot. West of Sweden's largest lake, Vänern, is Dalsland with its highly varied scenery with deep, peaceful forests and thousands of sparkling small lakes and tarns. Its extensive system of tranquil long lakes makes it a paradise for canoeing, and you can paddle for days without having to lift your canoe a single inch.

In addition to fishing, canoeing, golf and walking, Värmland is a highly popular destination for a rafting expedition. You glide gently down the Klarälven river at 2 km/h on your own log raft, with good chances of spotting beavers, elk or lynx along the river banks. It's an experience that you'll remember for the rest of your life!

In the Bergslagen-Närke-Tiveden area the 280 km long Bergslagsleden trail and the two large lakes of Vättern and Hjälmaren provide countless opportunities for fishing, swimming and boating. The province of Dalarna has much to offer: white-water rafting in rubber boats, white-water canoeing, walking, riding or mountain-biking. There are also many canoeing trails, particularly in the southern part of Dalarna. There's excellent fishing both for experienced anglers and beginners. You can pedal a platelayer's trolley on an old railway track, try panning for gold, or go on a safari to spot elk and beavers.

You can also enjoy white-water rafting, walking, canoeing and riding in Jämtland and Härjedalen. The fantastic mountainous scenery is an experience in itself, and you can enjoy a variety of activities, many aimed at families. Marvel at the mighty Tännforsen waterfall, fish for grayling in Tännäs or Rogen, go mountain-biking at Åreskutan - or just enjoy the tranquillity of the mountains.

Hälsingland offers some varied fishing both along the coast and in the remote inland areas close to the mountains. You can fish here for sea trout, brown trout, grayling, pike and perch in a beautiful natural setting. The fishing is also excellent in Medelpad and Ångermanland, with salmon and grayling in the rivers and plenty of coarse fish in the lakes and small streams.

In Västerbotten and Norrbotten you can discover anything from fine sandy beaches to spectacular and remote mountain scenery. In the gigantic area of Lapland you can be active for 24 hours a day in the summer. Several of Sweden's national parks, including Abisko, Sarek and Padjelanta, attract nature-lovers from all over the world. The famous 440 km Kungsleden long-distance path passes through several of the parks. Fishing, fell-walking, mountain-biking and white-water rafting are popular activities and you're never far from untamed mountain scenery.







Festivals & Events
---
Hultsfred Rock Festival, June
Sweden's largest rock festival for young and old. Sideshows incl. acrobats, comedians, tightrope walkers, jugglers, mimics, musicians and dancers.
---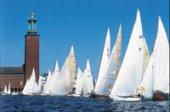 Photo: Swedish Travel & Tourism Council
---
Midsummer celebrations all over the country, June
Perhaps the most characteristically Swedish tradition of all is the Midsummer celebration. The Midsummer holiday is celebrated on the weekend closest to 24 June, with Midsummer Eve on Friday followed by Midsummer Day on Saturday. Midsummer marks the longest day of the year, and the skies never really grow dark.
---
Photo: Swedish Travel & Tourism Council
---
Music on Lake Siljan, June
The Peer Gynt Festival is a ten day long cultural festival with an open air performance of Henrik Ibsens Peer Gynt, with music by Edvard Grieg, open air consert "Ved Rondane", art exhibition, and much more.
---
Around Gotland Sailing race, June - July
The worlds largest offshore sailing race. ksss@ksss.se
---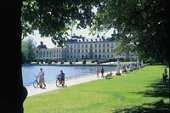 Photo: Swedish Travel & Tourism Council
---
The Hälsinge Hambo, July
A huge festive and colorful, long line dance. Dance groups from Sweden and abroad dance and play while the World Champion of Hambo is selected from the thousands of dancing couples. info@halsingehambon.x.se
---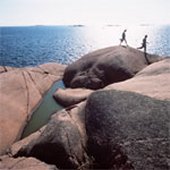 Photo: Swedish Travel & Tourism Council
---
Victoria Day, July
The island of Öland's National Day, celebrating Crown Princess Victoria's birthday with the Royal family. The "Victoria Mini Marathon" is held during the day, and an extended marathon in the evening. The prestigious "Victoria scholarship" is presented to a sports achiever. Information: Öland Tourist Office, tel: +46-485-390 20; Fax: 46-485-390 10
---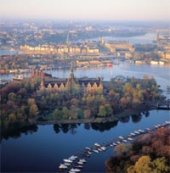 Photo: Swedish Travel & Tourism Council
---
Stockholm Jazz Festival, July
International jazz festival with international and Swedish world-acclaimed artists from the genres of jazz, blues, soul, funk and latin. In the center of Stockholm people gather to eat and enjoy the view as they listen to artists from all over the world. Sit and enjoy or dance to swing bands on the smaller stages. info@stockholmjazz.com
---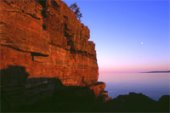 Photo: Swedish Travel & Tourism Council
---
Medieval Festival Week, August
For one week the old town of Visby on the island of Gotland goes back in time to the Middle Ages. Locals dress up in historic costumes, knights demonstrate their strength in jousting tournaments and a maiden is locked in a tower. Carnival atmosphere and festivities; a mixture of sobriety and merriment, education and carnival extravagance in a genuine medieval town. info@medeltidsveckan.se
---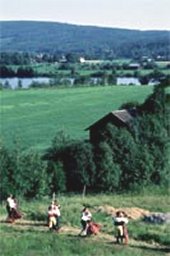 Photo: Swedish Travel & Tourism Council
---
The Gothenburg party, August
Swedens second largest and, some say, friendlest city throws a week long festival with an abundance of activities in the city center
---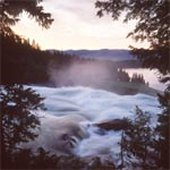 Photo: Swedish Travel & Tourism Council
---
Lidingö Cross-Country Race, October
The worlds largest cross-country race for runners in beautiful Lindingö outside of Stockholm info@lidingoloppet.se
---
Stockholm Open, October
The world famous tennis tournament.
---
Photo: Swedish Travel & Tourism Council
---
Stockholm International Film Festival, November
International film festival premiering over 100 films from all over the world.
info@filmfestivalen.se
---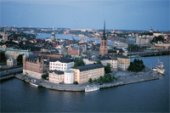 Photo: Swedish Travel & Tourism Council
---
Nobel Prize Day, December
The Nobel Prize Awards are presented by H.M. the King at a formal ceremony in the Stockholm Concert Hall. By special invitation only. Banquet follows at the Stockholm City Hall.
info@nobel.se
---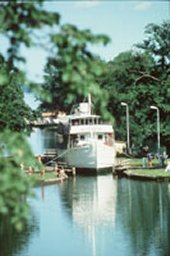 Photo: Swedish Travel & Tourism Council
---
ST. Lucia Day, December
The coronation of Saint Lucia, the bearer of light. Celebrated all over Sweden on the darkest night of the year, December 13, when a young woman is chosen to lead the annual procession of light at Skansen open air museum.
---
Images from Sweden
Courtesy of the
Swedish Tourist Board