HUNGARY

---




USEFUL INFORMATION

Hungary's vibrant culture and history is reflected in its many UNESCO World Heritage sites. There are lively festivals that take place place all over the country at all times of the year. Hungary's natural and diverse landscapes range from flat and grassy plains to lush peaks and valleys...

Location:
Central Europe, bordered by Austria, Slovakia, Ukraine, Croatia and Slovenia

Area:
93,028 sq km

Neighbouring countries:
Austria 366 km, Croatia 329 km, Romania 443 km, Serbia 166 km, Slovakia 676 km, Slovenia 102 km, Ukraine 103 km

Coastline:
0 km (landlocked)

Climate:
Hungary has a Continental climate, with hot summers with low overall humidity levels but frequent rainshowers and frigid to cold snowy winters. Average annual temperature is 9.7 °C (49.5 °F). Temperature extremes are about 42 °C (110 °F) in the summer and −29 °C (−20 °F) in the winter. Average temperature in the summer is 27 to 35 °C (81 to 95 °F), and in the winter it is 0 to −15 °C (32 to 5 °F). The average yearly rainfall is approximately 600 millimeters (24 in).

Elevation extremes:
Lowest point: Tisza River 78 m, highest point: Kekes 1,014 m

Population:
9,905,596 (July 2009 est.)

Ethnic groups:
Hungarian 92.3%, Roma 1.9%, other or unknown 5.8% (2001 census)

Religions:
Roman Catholic 51.9%, Calvinist 15.9%, Lutheran 3%, Greek Catholic 2.6%, other Christian 1%, other or unspecified 11.1%, unaffiliated 14.5% (2001 census)

Languages:
Hungarian 93.6%, other or unspecified 6.4% (2001 census)

Getting to Hungary:
The five main international airports in Hungary are Budapest-Ferihegy, Debrecen Airport, Sármellék Airport (also called FlyBalaton for its proximity to Lake Balaton, Hungary's number one tourist attraction), Győr-Pér and Pécs-Pogány. MALÉV Hungarian Airlines operates flights to over 60, mostly European cities. There are also several low cost carriers operating to Budapest: for example Ryanair, Wizzair, Easyjet, Germanwings.

There are direct Trans-European connections to Hungary from Austria, Romania, Serbia, Slovakia, Slovenia and the Ukraine. Countries slightly further afield include Bosnia and Herzegovina, Bulgaria, the Czech Republic, Germany, Greece, Italy, Poland, Russia, Switzerland and Turkey. You can search for international train connections at the official schedule site of MÁV, national train company.

To enter the country by car, ensure that your International Motor Insurance Card is valid for Hungary(H) along with the Vehicle Registration and a Power of Attorney from the owner if the car is not yours. The border guards are very strict about allowing cars through without these documents.

Several international bus lines go in or through Hungary. You can find timetables and book tickets on the homepage of Volánbusz, which is the national bus company and also the local Eurolines representation.

It is possible to enter Hungary by international shipping lines on Danube (Duna) or Tisza rivers. There is a scheduled boat service on the Danube to and from Vienna and Bratislava daily between early April and early November operated by Mahart.

Passports and visas:
A visa is no longer required for visitors from the EU. There are no longer any ID/passport controls on the EU borders. Citizens of Croatia can enter the country by showing their identity card. Citizens of the US, Canada, Australia, Mexico, Venezuela and New Zealand, are free to enter without a visa. The usual length of stay is 90 days without any additional permit.

Customs regulations:
Standard custom regulations apply for personal effects needed during a holiday. It is prohibited to take out of the country works of art and other objects of historic, artistic and scientific value.

Time:
UTC+1, +1hr daylight saving time begins last Sunday in March; ends last Sunday in October

Currency:
The unit of Hungarian currency is known as the Forint (HUF). The Hungarian "cent" (Fillér) is long since obsolete. Bills come in 20000, 10000, 5000, 2000, 1000, 500 and 200 HUF denominations, coins are 100 (two colored, similar to €2), 50, 20, 10, 5 HUF. Euro is now accepted at most hotels and some of the restaurants and shops.

Credit cards:
You can use major credit cards (EuroCard, Visa) in major shops and larger restaurants, but never expect that without checking first. Small places cannot afford to handle cards. ATMs are available even in small cities.

Working hours:
Offices - 09.00-17.30 Monday-Friday, Banks - 09.00-16.00 Monday-Friday, Shops - 10.00-20.00 Monday-Friday and half day Saturday.

Electricity:
220 Volts. An adapter and/or a transformer may be required.

Official holidays:
(2009) 1 Jan - New Years Day, 15 Mar - Anniversary of 1848 uprising against Austrian rule, 13 Apr - Easter Monday, 1 May - Labour Day, 1 Jun - Whit Monday, 20 Aug - National Day (Feast of St. Stephen), 23 Oct - Republic Day (Anniversary of 1956), 1 Nov - All Saint's Day, 24 Dec - Christmas Eve, 25 Dec - Christmas Day, 26 Dec - Boxing Day

Where to stay:
Prices vary greatly. Hungary has a range of hotels from luxurious five star international hotels to the more modest but comfortable small new private hotels spread all around the country.
In addition village tourism is popular and well developed in Hungary, and can be a remarkable experience.





Festivals & Events<
---
International Wine
and Champagne Festival
Budapest
The festival is held in September in the Castle District in Budapest. More than 170 wine distributors exhibit their products from Hungarian wine regions and foreign countries as well. You can taste culinary delicacies between two sips of wine and enjoy entertainment, such as dance & music provided by the organizers
---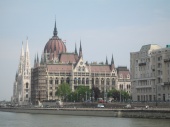 The Parliament
---
Debrecen Jazz Days
Held in September in Debrecen, Hungary's second largest city, this is Hungary's biggest jazz festival. It attracts saxophonists, pianists and other top musicians from all around the world. The concerts take place in venues all across the city.
---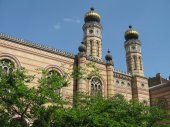 The Budapest Synagogue
---
The Balaton Festival
Keszthely
The Balaton festival i held in may. Along classical music concerts there are also open air pop and rock gigs from local and international bands, the streets are filled with jugglers, human statues and other street performers. The Balaton Festival takes place in Keszthely, on the south-western side of Hungary's biggest lake.
---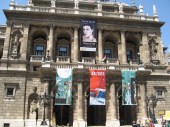 Budapest Opera House
---
Sziget Festival
This one week long open air music Festival is one of the biggest in Europe with hundreds of programs in the Óbuda (Ship dock) Island of Budapest located in the North of Budapest.
---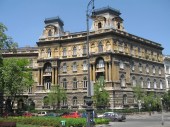 Budapest
---
Hungarian National Day
In memory of the 1848 Hungarian revolution, National Day is on 15th of March. Speeches glorifying the Hungarian are unsurprisingly popular, so too are musical events right throughout the country.
---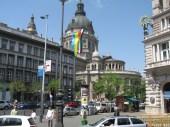 Budapest
---
St Stephen's Day
held in remembrance of the day the Hungarian state was first formed in the 10th century by St Stephen, the first king. Fireworks light up the Danube in Budapest in the evening and are not to be missed