HUNGARY

---




BUDAPEST

HISTORY, LANDMARKS, MUSEUMS AND GALLERIES

Budapest is the capital of Hungary. In 2008, Budapest had 1,702,297 inhabitants. The Budapest Commuter Area (or Greater Budapest) is home to 3,271,110 people. The city covers an area of 525 square kilometres (202.7 sq mi) within the city limits. Budapest became a single city occupying both banks of the river Danube with a unification on 17 November 1873 of right-bank Buda and Óbuda with left-bank Pest. Originally Budapest had 10 districts after coming into existence upon the unification of the three cities in 1873. Now there are 23 districts, 6 in Buda, 16 in Pest and 1 on Csepel Island between them. Each district can be associated with one or more city parts named after former towns within Budapest.

Budapest is widely regarded as one of the most beautiful cities in Europe, it attracts over 20 million visitors a year. Its extensive World Heritage Site includes the banks of the Danube, the Buda Castle Quarter, Andrássy Avenue, Heroes' Square and the Millennium Underground Railway, the second oldest in Europe. Other highlights include a total of 80 geothermal springs, the world's largest thermal water cave system, second largest synagogue, and third largest Parliament building. The collections of the Natural History Museum and the Museum of Fine Arts are also significant.

The neo-Gothic Parliament, containing amongst other things the Hungarian Crown Jewels. Saint Stephen's Basilica, where the Holy Right Hand of the founder of Hungary, King Saint Stephen is on display. There are Roman remains at the Aquincum Museum, and historic furniture at the Nagytétény Castle Museum. The Castle Hill, the River Danube embankments and the whole of Andrássy út have been officially recognized as UNESCO World Heritage Sites. Castle Hill and the Castle District; there are three churches here, six museums, and a host of interesting buildings, streets and squares.

The Parliment in Budapest, picture taken by Firestarbl

The former Royal Palace is one of the symbols of Hungary – and has been the scene of battles and wars ever since the thirteenth century. Today it houses two impressive museums and the National Széchenyi Library. The nearby Sándor Palace contains the offices and official residence of the President of Hungary. The seven-hundred year-old Matthias Church is one of the jewels of Budapest. Next to it is an equestrian statue of the first king of Hungary, King Saint Stephen, and behind that is the Fisherman's Bastion, from where opens out a panoramic view of the whole city. Statues of the Turul, the mythical guardian bird of Hungary, can be found in both the Castle District and the Twelfth District.

In Pest, arguably the most important sight is Andrássy út. As far as Kodály Körönd and Oktogon both sides are lined with large shops and flats built close together. Between there and Heroes' Square the houses are detached and altogether grander. Under the whole runs continental Europe's oldest Underground railway, most of whose stations retain their original appearance. Heroes' Square is dominated by the Millenary Monument, with the Tomb of the Unknown Soldier in front. To the sides are the Museum of Fine Arts and the Palace of Arts, and behind City Park opens out, with Vajdahunyad Castle. One of the jewels of Andrássy út is the Hungarian State Opera House. Statue Park, a theme park with striking statues of the Communist era, is located just outside the main city and is accessible by public transport.

The city is home to the largest synagogue in Europe (Dohány Street Synagogue), the largest medicinal bath in Europe (Széchenyi Medicinal Bath) and the third largest Parliament building in the world, once the largest in the world. The third largest church in Europe (Esztergom Basilica) and the second largest Baroque castle in the world (Gödöllő) are in the vicinity.

Heroes Square (Hősök tere)

Heroes Square is one of the major squares of Budapest and is rich with historic and political significance. Hősök tere is surrounded by two important buildings, Museum of Fine Arts on the left and Palace of Art (or Art Exhibition Museum) on the right. The central site of the hero's square, as well as a landmark of Budapest, is the Millennium Memorial (also known as Millennium Monument or Millenary Monument) with statues of the leaders of the seven tribes that founded Hungary in the 9th century and other outstanding figures of Hungarian history (see below). The construction of the memorial was started when the one thousandth anniversary was celebrated (in 1896), but it was finished only in 1929 and the square got its name then.


St. Stephen's Basilica

The ecclesiastic basilica is named in honour of Stephen, the first King of Hungary (c 975–1038), whose mummified fist is housed in the reliquary. Along with the Hungarian Parliament Building, it is the tallest building of Budapest (96 m).

The architectural style is neoclassical; it has a Greek cross groundplan. The façade is anchored by two large bell towers. In the southern tower is Hungary's biggest bell, weighing over 9 tons. The bell was used for military purposes during World War II. Visitors may access the dome by elevators or 364 stairs for a 360° view overlooking Budapest.

Photo by Giamesh

Széchenyi Chain Bridge

The bridge is named after István Széchenyi, a major supporter of its construction. At the time of its construction, it counted as a wonder of the world. At the time, its center span of 202 m was one of the largest in the world. The bridge spans the River Danube between Buda and Pest, the western and eastern sides of Budapest. Its decorations made of cast iron, and its construction, radiating calm dignity and balance, raised it among the most beautiful industrial monuments in Europe. It became a symbol of advancement, national awakening, and the linkage between East and West.

Photo by Dino Quinzani

Hungarian National Museum

The Hungarian National Museum is a major national identity for Hungary. The museum has seven permanent displays. The History of Hungary from the foundation of the state to 1990 Middle Ages is the first one that is mentioned. This display covers topics such as the age of the Arpads, the Turkish Age, Transylvania and the royal Hungary, etc. The Museum also covers Modern and Contemporary History. The history section here begins with the Rákóczi War of Independence, in the display it shows different sections of his military attire and various coins. The history section then ends with the rise and fall of the communist system in Hungary where the various politics are looked at. The permanent exhibitions are free of charge. Guided tours are also offered.

Széchenyi Medicinal Bath

The Széchenyi thermal bath is the largest medicinal bath in Europe. Its water is supplied by two thermal springs, their temperature is 74°F/23°C and 77°F/25°C, respectively. The bath can be found in the City Park, and was built in 1913 in Neo-baroque style to the design of Győző Czigler. The gallery surrounding the pool is supported by monumental Roman-style columns. The spa is decorated with a wealth of original Art-Nouveau furnishings, artistic mosaics, sculptures, and stained glass windows. In 1999 it was reconstructed to include a whirling corridor, underwater effervescence production and neck showers.

The bath at daylight, picture taken by Sebb





Festivals & Events<
---
International Wine
and Champagne Festival
Budapest
The festival is held in September in the Castle District in Budapest. More than 170 wine distributors exhibit their products from Hungarian wine regions and foreign countries as well. You can taste culinary delicacies between two sips of wine and enjoy entertainment, such as dance & music provided by the organizers
---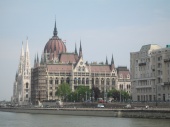 The Parliament
---
Debrecen Jazz Days
Held in September in Debrecen, Hungary's second largest city, this is Hungary's biggest jazz festival. It attracts saxophonists, pianists and other top musicians from all around the world. The concerts take place in venues all across the city.
---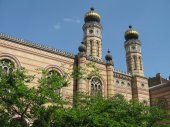 The Budapest Synagogue
---
The Balaton Festival
Keszthely
The Balaton festival i held in may. Along classical music concerts there are also open air pop and rock gigs from local and international bands, the streets are filled with jugglers, human statues and other street performers. The Balaton Festival takes place in Keszthely, on the south-western side of Hungary's biggest lake.
---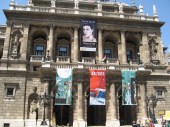 Budapest Opera House
---
Sziget Festival
This one week long open air music Festival is one of the biggest in Europe with hundreds of programs in the Óbuda (Ship dock) Island of Budapest located in the North of Budapest.
---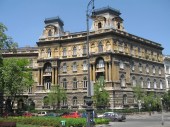 Budapest
---
Hungarian National Day
In memory of the 1848 Hungarian revolution, National Day is on 15th of March. Speeches glorifying the Hungarian are unsurprisingly popular, so too are musical events right throughout the country.
---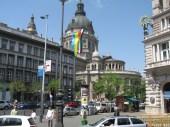 Budapest
---
St Stephen's Day
held in remembrance of the day the Hungarian state was first formed in the 10th century by St Stephen, the first king. Fireworks light up the Danube in Budapest in the evening and are not to be missed