GERMANY

---




HAMBURG





Today, Hamburg is one of Germany´s most important business locations. Many companies have their headquarters here and it is an important city for the media and publishing industries. Architecturally, Hamburg can boast many futuristic pieces of architecture. One need only think of the various modern shopping arcades and the Gruner & Jahr Pressehaus. The current population of Hamburg totals 1.7 million. Hamburg is a city state and part of the Federal Republic of Germany. There are 94 consulates in the city and the city has contacts thoughout the world. Some of its partner-cities include Shanghai, Chicago, Osaka, Prague, St. Petersburg and Marseilles.

Hamburg Tourist Board

Whether it's the cultural highlights that turn you on, or all out partying, or better yet both - discovering Hamburg is fun. Naturally, night life centers around the "Kiez" in St. Pauli (the Red Light District), but you'll find a great fun-loving atmosphere in other parts of town, too, like Altona or Eimsbüttel. It's a big mistake to sleep away the next day, though, just because you were out all night. How about shopping or visiting a museum? And if you feel like relaxing after a stroll around town, why not check out one of the open air concerts in the Stadtpark, squint in the sunlight on the banks of the Elbe, or enjoy the view from one of the many cafés along the Alster. There's nothing boring about this town - so Hamburg, here we come!

Is visiting a city without an extensive museum tour unthinkable for you? Do you love to bask in the works of great artists in a stylish atmosphere? Enjoy broadening your horizon at small, even off-beat exhibitions? Then Hamburg's the right place for you!

Current highlights:



Hamburger Kunsthalle
From January 18th to April 1st, the Hamburger Kunsthalle presents the exhibition the revolution of Landscape with major works of the 17th century of the the dutch artist Jacob van Ruisdael.


Museum of Labour and Technology
At the beginnig of the last century it represented modern life - today's life is unimaginable without it: at February 15th Hamburg's underground system celebrated its 90th birthday. The same day the extensive exhibition On the way - 90 years Hamburg Underground opened with a look behind the scenes.


Hamburg Dungeon
Deep in the heart of the Hamburger Speicherstadt lies the Hamburg Dungeon. Within its walls lie more than 2,000 years of gruesomely authentic history vividly brought back to life... and death. As you delve into the darkest chapters of the grim and bloody past, recreated in all its dreadful detail, remember: everything you experience really happened.


Miniature Wonderland
One of the biggest mock-up railways of the world! Experience a great landscape with houses and figures, cars and trees, hills and valleys, night and day and, of course, lots and lots of tracks and trains!


Dialog in the Dark
The world-wide successful exhibition is offering meaningful insights with its Dialog in the Dark, which makes the world of the blind a little easier to grasp for sighted people until March, 2003. Embark on a fascinating journey which will captivate every one of your senses - except for your eyes.


Hagenbecks Tierpark
There are not only plenty of animals to gaze at in Hagenbecks Tierpark (Zoo): In the Exhibition Pavilion a show provides you with information about species and nature conservation

Hamburg Tourist Board

Camping

- Sleep tight in the out of doors
Do you prefer being close to nature in the friendly atmosphere of a camp ground to the comfort of a hotel room? Have you always loved pitching your tent exactly where it pleases you most; do you always like to head straight for the prettiest places in your RV? Then Hamburg's just the place for you. Take your pick of great camping opportunities both in town as well as the surrounding areas. This is a beautiful place by any means.

- Campingplatz Schnelsen-Nord
Tip: 145 camp sites, very inviting, a modern camp ground divided by hedges and trees with excellent sanitary facilities. Washing machines and dryers available. Recreation room with TV. Located directly behind a high noise wall next to the Autobahn, the camp grounds are hardly suitable for an extended stay in a tent.
Registration 8:00 a.m. - 10:00 p.m.
Arrival: take U2 train to "Niendorf- Markt" or Bus 291 to "Dornröschenweg." From A7 take exit marked "Schnelsen Nord."
Wunderbrunnen 2
22457 Hamburg
Tel.: +49/ 40/ 559 42 257
Open: April - middle of Nov.

- Campingplatz Buchholtz
Tip: only 40 camp sites, an old-fashioned camp ground in an unusual location, a back courtyard with two rows of poplars. Small restaurant/pub which also serves as a front office. Open year round. Close to a residential district (Eimsbüttel) with many shops and restaurants.
Arrival: take U2 train to"Hagenbecks Tierpark." From A7 take exit marked "Stellingen" then proceed toward the city
Kieler Str. 374
22527 Hamburg
Tel.: +49/ 40/ 540 45 32
Fax: +49/ 40/ 540 25 36
Open: year-round

- Campingplatz ABC am Großensee
Tip: A small, idyllic camp ground before the city gates. 12 km from Rahlstedt. Caravan and cottage rentals.
Arrival: from A1 take exit marked "Stapelfeld" in the direction of Trittau (Richtung Trittau). From A24 take exit marked "Witzhave." Take Bus 364 from Rahlstedt to Großensee Kreuzung.
Trittauerstr. 11 (on route L93)
22946 Großensee
Tel.: +49/ 41 54/ 61 10

- Campingplatz Harsefeld
Arrival: from A1/E22 proceed from Sittensen via Ahlerstedt to Harsefeld.
Tel.: +49/ 41 64/ 88 71 83

RV park - parking - camp sites - caravans
Tip: situated directly on the customs canal in the Free Port of Hamburg
Arrival: take U-Bahn trains to Meßberg station
C. Paulmann
Poggenmühle 4
20457 Hamburg
Tel.: +49/ 40/ 32 40 56
Fax: +49/ 40/ 32 78 47

Naturcamping Malchow Neumann Hiller Blomkamp 47
22549 Hamburg
Tel.: +49/ 40/ 8 00 73 86
Campingplatz Blankenese Falkensteiner Ufer 101
22587 HH-Blankenese
Tel.: +49/ 40/ 81 29 49






Festivals & Events
---
Black Forest Open-Air Museum
24 March onwards
Find out all about life and work in the Black Forest over the last 400 years. As well as the farmhouses that represent all the regions in the Black Forest, the museum also has animals, craft demonstrations and activity days for people of all ages. The season's highlights will include the German Mills Day (Deutscher Mühlentag) on 20 May, the Open-Air Museums Day (Tag der Freilichtmuseen) on 4 August and the Gutach Traditional Costumed Wedding Procession (Trachtenhochzeitszug) on 22 September.
info@vogtsbauernhof.org
---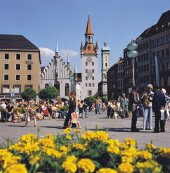 Munich - Old Town Hall
Photographer: Christl Reiter
---
Hamburger Dom
22. March - 21. April 2002
The biggest public festival in northern Germany on the Heiligengeistfeld
info@hamburg-tourismus.de
---
Oktoberfest - Munich
October
The world's largest beer-party draws visitors from around the globe. The festival is the biggest public festival in the world and will be held for the 169th time in the year 2002.
tourismus@muenchen.btl.de
---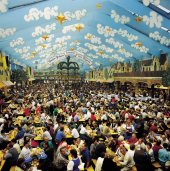 Munich - Octoberfest
Photographer: Christl Reiter Beertent
---
The Stuttgart Beer Festival
September - October
Today it is one of the largest and most enchanting beer festivals in the world, visited by millions of people. Traditional brass bands keep everyone's spirits high, and delicious Swabian specialities are served.
info line:+49(0)711/2228-269.
---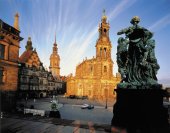 Dresden
DWT / Foto Strehlow Beertent
---
Street Music Festival on the 'Ring' - Cologne
August
Open-air festivals The world's biggest open-air music festival with 10 live music stages on the 'Rings' in Cologne, featuring rock, pop, and jazz music.
info@nrw-tourismus.de
---
The German Alpine Route
Originally one of the oldest German tourist routes, it runs along the foothills of the Alps between Lindau on Lake Constance and Berchtesgaden on the Koenigsee. It reveals along 450 km. all the beauty of the countyside with it's rural farmer villages, 21 picturesque lakes, 64 renowned spa towns, 25 awe inspiring fortresses and castles as well as the unique richness of culture and nature at the edge of the Allguer and the Bavarian Alps. cycle enthusiasts, fans of fun sports and winter sports et.. culture and wellness will all get their money's worth here as do ramblers.
---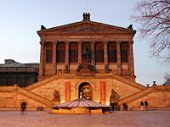 Berlin
Berlin Tourist Boad
---
The route of emperors and kings
This stretches from the main metropolis Frankfurt via Vienna to Budapest, a route which captures a piece of European history and tradition. Over 1,100 km. we are taken back in time to the Middle Ages, when kings and emperors travelled through the country accompanied by their huge entourage. discover culture in monasteries, palaces and castles, medieval towns and magnificent residences enjoying some of the most beautiful countryside that Germany, Austria and Hungary have to offer.
---
Alster Fair, Hamburg
The largest summer festival in Hamburg is the Alster-Vergnügen, which takes place from August 30 through September 2, 2002. Featuring everything from street theatre to music and art on the waterfront in Hamburg, the 'Venice of the North' is a magnificent host for this upbeat, exciting festival.
---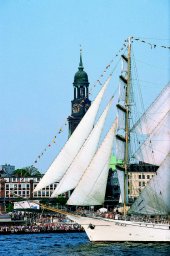 Hamburg
Hamburg Tourist Board
---
Music in Bavaria
Summer 2002
"Ludwig II" - Experience the fairy tale of King Ludwig II. Set at the base of his famous Neuschwanstein Castle in Fussen, the Musical Theatre Neuschwanstein brings to life, for the first time, the story of this magical character. We offer scheduled, round trip transfers by luxury coach from Munich to Füssen, and a ticket to this beautiful musical extravaganza.
Enjoy world famous operas in July of 2002, in Munich.
Celebrate the "Festival Mitte Europa" in the summer of 2002, in Bavaria.
---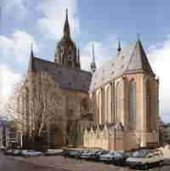 Frankfurt
Frankfurt Tourist Board
---
Saxony Festival
Spring and Summer 2002
Celebrate the 10th Jubilee of the "Festival Sandstein und Musik" set in beautiful palaces, castles and gardens in the spring & summer of 2002. Dedicated to "Aspiration & Valediction" The Dresden Music Festival will enchant audiences, in the summer of 2002.