Where to go in
the Czech Republic




CZECH REPUBLIC

---




USEFUL INFORMATION




...Czech culture has firm roots in a rich and plentiful history. Tourists and visitors from all over the world can marvel at some of the most beautiful and oldest pieces of architecture, literature and fine arts...

Location:
Central Europe, between Germany, Poland, Slovikia, and Austria

Area:
78,867 sq km

Neighbouring countries:
Austria 362 km, Germany 815 km, Poland 615 km, Slovakia 197 km

Coastline:
0 km (landlocked)

Climate:
The Czech Republic has a temperate continental climate, with relatively hot summers and cold, cloudy and snowy winters. Most rain falls during the summer. The temperature difference between summer and winter is relatively high, due to the landlocked geographical position. The coldest month is usually January, followed by February and December. The warmest month of the year is July, followed by August and June.

Elevation extremes:
Lowest point: Elbe River 115 m, highest point: Snezka 1,602 m

Population:
10,211,904 (July 2009 est.)

Ethnic groups:
Czech 90.4%, Moravian 3.7%, Slovak 1.9%, other 4% (2001 census)

Religions:
Roman Catholic 26.8%, Protestant 2.1%, other 3.3%, unspecified 8.8%, unaffiliated 59% (2001 census)

Languages:
Czech 94.9%, Slovak 2%, other 2.3%, unidentified 0.8% (2001 census)

Getting to The Czech Republic:
Ruzyně International Airport is the main international airport in the country. It is located about 10 km west of the centre of Prague. Other international airports are in Brno (with flights to London, Moscow, Barcelona and Prague), Ostrava (flights to Vienna and Prague), Pardubice, Karlovy Vary (flights to Moscow and Uherské Hradiště). There are dozens of low-cost airlines going to/from Prague. Ryanair flies to Brno from London and Girona and to Prague from Dublin. Other nearby airports are Nuremberg (200 km) and Munich (320 km) in Germany.

International train service runs from most points in Europe with direct connections from Slovakia, Poland, Germany, Denmark, Switzerland, Austria, Slovenia, Hungary, Romania and Ukraine. If you are in Bavaria, Saxony or Thuringia, the cheapest way to get to the Czech Republic is to take a "Bayernticket", "Sachsen-Ticket" or "Thuringen-Ticket" (up to 5 people per ticket, which costs 25 EUR; only regional trains) to the border and then buy a Czech group ticket there.

International bus service runs from many cities in Europe with direct connections from Germany, Netherlands, Slovakia, Switzerland, Austria etc. Good service is offered by Eurolines and Student Agency.

Passports and visas:
The Czech Republic has joined the Schengen agreement, which means that you can enter on a European Union Schengen visa and there are no longer any ID/passport controls on the EU borders. EU Citizens can stay in the Czech Republic indefinitely without a visa. Citizens of Canada, Australia, New Zealand and the USA do not need a visa for stays of up to 90 days. Specific details for all countries can be found at Ministry of Foreign Affairs. Check czechembassy.org for more current information.

Customs regulations:
Standard custom regulations apply for personal effects needed during a holiday. It is prohibited to take out of the country works of art and other objects of historic, artistic and scientific value.

Time:
UTC+1, +1hr daylight saving time begins last Sunday in March; ends last Sunday in October

Currency:
The currency of the Czech republic is the koruna (crown), plural koruny or korun. The currency code CZK is often used internationally, but the local symbol is Kč (for Koruna česká). 1 koruna is made up of 100 haléř (haléřů), abbreviated to hal., but coins are only issued in whole koruna values as of October 2008. Some major stores (mainly bigger chains) will accept Euros, and it's also fairly common for accommodation providers to quote the price in Euros.

Coins are issued in 1Kč, 2Kč, 5Kč (all stainless steel), 10Kč (copper-colored), 20Kč (brass-colored) and 50 Kč (copper-colored ring, brass-colored center). Notes are issued in 50Kč (pink), 100Kč (aqua), 200Kč (orange), 500Kč (red), 1000Kč (purple), 2000Kč (olive green) and 5000Kč (green-purple).

Credit cards:
Major stores throughout the country accept Visa and EC/MC, as do all the tourist stores in Prague.

Working hours:
Offices - 09.00-17.30 Monday-Friday, Banks - 09.00-16.00 Monday-Friday, Shops - 10.00-20.00 Monday-Friday and half day Saturday.

Important telephone numbers
The most important emergency services have three-digit numbers which you should have with you at all times in case you should need them. These numbers can be called free of charge from mobiles even without a SIM card inserted.
112 – General emergency number
155 – Ambulance
158 – Police
156 – Municipal Police
150 – Fire brigade
Free phone numbers in the Czech Republic begin with 800. The numbers for directory enquiries are 1180 and 1181 (there is a charge for calls to these numbers).

Electricity:
The Czech Republic usually supply electricity at between 220 and 240 volts AC. An adapter and/or a transformer may be required.

Official holidays:
1 Jan - Restoration Day of the Independent Czech State; New Year's Day, Mar/Apr - Easter Monday, 1 May - Labour Day, 8 May - Liberation Day, 5 July - Saints Cyril and Methodius Day, 6 Jul - Hus Day, 28 Sep - St. Wenceslas Day (Czech Statehood Day), 28 Oct - Independent Czechoslovak State Day, 17 Nov - Struggle for Freedom and Democracy Day, 24 Dec - Christmas Eve, 25 Dec - Christmas Day, 26 Dec - St. Stephen's Day (Czech: "The Second Christmas Day").

Where to stay:
Prices vary greatly. The Czech Republic has a range of hotels from luxurious five star international hotels to the more modest but comfortable small new private hotels spread all around the country.
In addition village tourism is popular and well developed in the Czech Republic.





Festivals & Events
---
Karlovy Vary International Film Festival
One of the most prestigious international film festivals in Europe. Classified as a "Category A" festival, which puts it in the same class as festivals in such cities as Cannes, Berlin, Venice, and Tokyo. The festival presents 220 feature films and up to 40 short films from all over the world each year.
---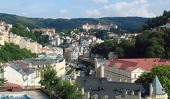 Karlovy Vary
---
Pilsner Fest
Pilsner Fest is held to celebrate brewing the first beer of the Pilsner type. In addition to Pilsner Urquell and Gambrinus, visitors can look forward to tasting an entirely special beer brewed solely for this occasion. Gastronomic specialties and cultural events accompany the fest.
---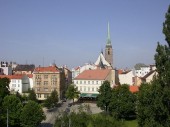 The City of Pilzen
---
Český Krumlov International Music Festival
The longest Český Krumlov festival, whose concerts represent the climax of the cultural summer events in Český Krumlov.
---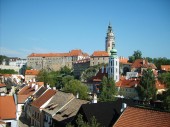 Český Krumlov
---
Chopin Festival
As part of the festival, prominent Czech and world interpreters introduce compositions not only by Frédéric Chopin but also by other famous composers. Throughout the year, it is possible to visit the Chopin House, where there is a permanent exhibition dedicated to Frédéric Chopin.
---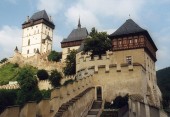 Karlštejn Castle
---
Independence Day
(1 January)
A day to mark the creation of an independent Czech Republic following the division of Czechoslovakia on 1 January 1993.
---