CANADA

---




MONTREAL







Montreal is the second largest city in Canada, the cultural and economic capital of Quebec and the main entry point to the province. Montreal is a city with a wealth of history and culture and is widely considered one of the most intresting cities in Canada. French is the city's official language and is the second largest primarily French-speaking city in the world, after Paris. Today Montreal continues to be an important centre for tourism, commerce, technology, design and media for all of Canada.

A view from the Chalet du Mont Royal overlooking downtown Montreal
Photo: Diliff

Old Montreal
Old Montreal is a historic area located southeast of downtown in the borough of Ville-Marie. The area is bordered on the west by McGill St., on the north by Ruelle des Fortifications, on the east by Berri St. and on the south by the Saint Lawrence River. Old Montrealis the oldest area in the city of Montreal, most of the buildings here date back to the 17th - 19th century. It contains many different attractions such as the Old Port of Montreal, Place Jacques-Cartier, Montreal City Hall, the Bonsecours Market, Place d'Armes, Pointe-à-Callière Museum, the Notre-Dame de Montréal Basilica, and the Montreal Science Centre. Old Montreal is accessible from the downtown core via the underground city and is served by several STM bus routes and metro stations, ferries to the South Shore and a network of bicycle paths. At night several of the buildings are beautifully lit up.

Bonsecours Market
Bonsecours Market is a two-story domed public situated at 350 rue Saint-Paul in Old Montreal. It was the main public market in Montreal for more than 100 years. Bonsecours Market was designated a National Historic Site of Canada in 1984. Today it serves as a venue for banquets, festivals and ongoing exhibitions of contemporary arts and crafts, with free admission. On the main and second floor you will find outdoor cafés, restaurants and boutiques.

Bonsecours Market
Photo: Gribeco

Parc Jean-Drapeau
Parc Jean-Drapeau was the site of the 1967 World's Fair and is now devoted to green spaces and a large outdoor concert venue. It comprises two islands, Saint Helen's Island and the artificial island Île Notre-Dame. It is also home of the Montreal Formula 1 Grand Prix, the Gilles Villeneuve racing circuit. An artificial beach, a huge outdoor pool complex, and the Montreal Casino are also located on or around the park. You can also see the Montreal Biosphere, a geodesic dome designed by R. Buckminster Fuller. It now houses an Environment Canada museum dedicated to water and the environment.

Part of Jean-Drapeau park in Montréal
The Biosphere is visible on the right hand side
Photo: Colocho

Notre-Dame Basilica (Montreal)
Notre-Dame Basilica is a basilica in the historic district of Old Montreal. The church is located at 110 Notre-Dame Street West, at the corner of Saint Sulpice Street. It is located next to the Saint-Sulpice Seminary and faces the Place d'Armes square. The church's Gothic architecture is among the most dramatic in the world. Its interior is grand and colourful with stained glass. The ceiling is coloured deep blue and decorated with golden stars. It is filled with hundreds of intricate wooden carvings and several religious statues. It also has a Casavant Frères pipe organ, which comprises four keyboards, 97 stops, over 9000 individual pipes and a pedal board. The basilica offers musical programming of choral and organ performances. It is a tradition among many Montrealers to attend the annual performance of Handel's Messiah every December at Christmas.

Notre-Dame Basilica, Montreal
Photo: Tango7174

Old Port of Montreal
The Old Port Of Montreal has been the social, economic and cultural soul of Montreal ever since early French fur traders used it as a trading post in 1611. Today, the riverfront welcomes over seven million visitors per year. The historical Old Port offers Montrealers and visitors alike access to a wide variety of activities, including the Montréal Science Centre, with an IMAX Theatre, and the Montreal Clock Tower. It offers riverfront access for walking, cycling, roller-blading, quadricycle, pedalo and Segway rentals. Cultural events include the Festival Montréal en lumière, Igloofest and the Matsuri Japon festival. Shipping has been moved further east to the present Port of Montreal site, leaving the riverside area of Old Port adjacent to Old Montreal as a recreational and historical area. The current Port of Montreal used for shipping is the largest inland port (dry port) in the world and one of the busiest ports in North America. It is also the entry point to other major cities such as Toronto, Detroit and Cleveland.



Old Port in autumn
Photo: AnnaKucsma

Montreal City Hall
The five-storey Montreal City Hallis the work of architects Henri-Maurice Perrault and Alexander Cowper Hutchison, and was built between 1872 and 1878. It is located in Old Montreal, between Place Jacques-Cartier and the Champ de Mars, at 275 Notre-Dame Street East. The closest metro station is Champ-de-Mars. Architecturally it is one of the best examples of the Second Empire style in Canada, and the first city hall to have been constructed in the country solely for municipal administration. In 1967 Charles de Gaulle gave his Vive le Québec libre speech from the buildings balcony.

Montreal City Hall
Photo: David Iliff

Pointe-à-Callière Museum
Pointe-à-Callière Museum is the Montreal museum of archaeology and history located in Old Montreal. It was founded in 1992 as part of celebrations to mark Montreal's 350th birthday. The museum shows collections of artefacts from the First Nations of the Montreal region that illustrate how various cultures coexisted and interacted, and how the French and British regimes influenced the history of this territory over the years.



Pointe-à-Callière Museum
Photo: David Iliff

Rialto Theatre
The Rialto Theatre is one of the most iconic buildings of Montreal. It is designated as a National Historic Site of Canada. The theatre is located on Park Avenue. Architecturally it was inspired by the Neo-baroque-style of the Paris Opera House. The Rialto is a center for the performing arts and hosts tours, events, plays, bands and movies.

The Rialto Theatre
Photo: Shawn











National Holidays & Festivals
---
New Year's Day
January 1 every year
New Year's Day is the first day of the year. It is a public holiday, often celebrated with fireworks at the stroke of midnight as the new year starts.
---
Vancouver's skyline
Photo: Shaund
---
Canada Day
July 1
Canada Day is the national day of Canada, a federal statutory holiday celebrating the anniversary of the July 1, 1867, enactment of the British North America Act which united three British colonies into a single country, called Canada, within the British Empire. There are usually many outdoor public events, such as parades, carnivals, festivals, barbecues, air and maritime shows, fireworks, and free musical concerts.
---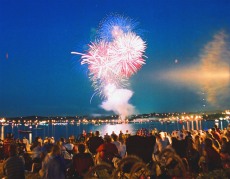 Canada Day celebrations, Barrie
Photo: DarrenBaker
---
Victoria Day
Last Monday in May before May 24
Victoria Day is a federal Canadian statutory holiday celebrated on the last Monday before May 25, in honour of Queen Victoria's birthday. Several cities will hold a parade on the holiday. Other celebrations include an evening fireworks show, such as that held at Ashbridge's Bay Beach in the east end of Toronto, and at Ontario Place, in the same city. For many across the country Victoria Day serves as the unofficial marker of the end of the winter social season, and thus the beginning of the summer social calendar.
---
Toronto view from CN tower
Photo: Agunther
---
Thanksgiving (Canada)
Second Monday in October
Thanksgiving, or Thanksgiving Day, occurring on the second Monday in October (since 1957), is an annual Canadian holiday to give thanks at the close of the harvest season. Thanksgiving is a statutory holiday in most jurisdictions of Canada. While Thanksgiving is usually celebrated with a large family meal, it is also often a time for weekend getaways. Similar to the United States, traditions such as parades and football can be a part of Canadian Thanksgiving.
---
Quebec's National Holiday, Montreal
---
National Holiday (Quebec)
June 24th every year
Quebec's National Holiday is celebrated annually on June 24th and since 1978 it is publicly financed and organized by a National Holiday Organizing Committee. It is a paid statutory public holiday and celebrated as a festival of French Canadian culture. Celebrations have included in the past fireworks over the Parliament Building of Quebec, free public concerts and parades.
---
Toronto International Film Festival
September
The Toronto International Film Festival (TIFF) is a publicly-attended film festival held each September in Toronto, Ontario, Canada. The TIFF is now one of the most prestigious film festivals in the world. In 2010, 339 films from 59 countries were screened at 32 screens in downtown Toronto venues. Many Hollywood studios premiere their films at TIFF due to the festival's easy-going non-competitive nature, relatively inexpensive costs (when compared to European festivals), eager film-fluent audiences and convenient timing.
---
Calgary Stampede rodeo
Photo: Chuck Szmurlo
---
Calgary Stampede
July
The Calgary Stampede is an annual rodeo, exhibition and festival held every July in Calgary, Alberta, Canada. It is organized by thousands of volunteers and supported by civic leaders. The ten day event attracts over one million visitors per year and features the world's largest rodeo, a parade, midway, stage shows, concerts, agricultural competitions, chuckwagon racing and First Nations exhibitions. It is one of Canada's largest festivals and a significant tourist attraction for the city. Calgary's national and international identity is very much tied to the event.
---
Canadian National Exhibition
Canadian National Exhibition (CNE) is an annual event that takes place at Exhibition Place in Toronto, Ontario, Canada during the 18 days leading up to and including Labour Day Monday. With an attendance of approximately 1.3 million visitors each season, it is Canada's largest fair and the fifth largest in North America. The fair itself consists of a variety of pavilions, exhibits, shows, concerts, a working farm, horse show, casino, and a large carnival midway with rides, games and food.
---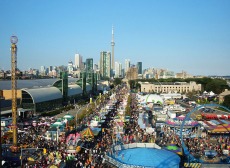 Canadian National Exhibition
Photo: JenniferHeartsU
---