CANADA

---




Canada is a large English and French speaking country. It is the world's second largest country in land area with urban cities, small towns, large mountain ranges and vast coastlines. It is a highly developed, stable democracy with a vibrant economy. Tourist facilities are widely available in much of the country, but the northern and wilderness areas are less developed and facilities there can be vast distances apart.

USEFUL INFORMATION

Location:
Northern North America, bordering the North Atlantic Ocean on the east, North Pacific Ocean on the west, and the Arctic Ocean on the north, north of the conterminous US.

Area:
9,984,670 sq km

Neighbouring countries:
US 8,893 km (includes 2,477 km with Alaska) note: Canada is the World's largest country that borders only one country.

Coastline:
202,080 km

Climate:
varies from temperate in south to subarctic and arctic in north.

Elevation extremes:
lowest point: Atlantic Ocean 0 m, highest point: Mount Logan 5,959 m

Population:
34,030,589 (July 2011 est.)

Ethnic groups:
British Isles origin 28%, French origin 23%, other European 15%, Amerindian 2%, other, mostly Asian, African, Arab 6%, mixed background 26%

Religions:
Roman Catholic 42.6%, Protestant 23.3% (including United Church 9.5%, Anglican 6.8%, Baptist 2.4%, Lutheran 2%), other Christian 4.4%, Muslim 1.9%, other and unspecified 11.8%, none 16% (2001 census)

Languages:
English (official) 58.8%, French (official) 21.6%, other 19.6% (2006 Census)

Natural hazards:
Continuous permafrost in north is a serious obstacle to development; cyclonic storms form east of the Rocky Mountains, a result of the mixing of air masses from the Arctic, Pacific, and North American interior, and produce most of the country's rain and snow east of the mountains.

Getting to Canada
You are likely to arrive to Canada by air, most likely into Montreal, Ottawa, Toronto, Calgary or Vancouver (the 5 largest cities, from East to West). Many other cities have international airports as well, with the following being of particular use to visitors: Halifax, St. John's, Winnipeg, Edmonton, Regina, Saskatoon, Kelowna, and Victoria. You might also enter the country by road from the United States through one of several border crossing points. When driving within Montreal, Vancouver or Toronto keep in mind that these cities are densely populated and parking can be difficult to find and/or expensive. All three cities provide extensive public transit, so it is easy to park in a central location, or at your hotel or lodging, and still travel in the metropolitan area.

Visas:
Citizens of following countries do not need a visa to visit Canada for a stay of (generally) up to six months provided that no work is undertaken: Andorra, Anguilla, Antigua and Barbuda, Australia, Austria, Bahamas, Barbados, Belgium, Bermuda, Botswana, British Virgin Islands, Brunei, Cayman Islands, Croatia, Cyprus, Denmark, Estonia, Falkland Islands, Finland, France, Germany, Gibraltar, Greece, Holy See, Hong Kong (BNO Passport or SAR Passport), Hungary, Iceland, Ireland, Israel (National Passport holders only), Italy, Japan, Latvia, Lithuania (biometric passports only), Liechtenstein, Luxembourg, Malta, Monaco, Montserrat, Namibia, Netherlands, New Zealand, Norway, Papua New Guinea, Pitcairn Islands, Poland (biometric passports only), Portugal, Saint Kitts and Nevis, St. Lucia, Saint Vincent and the Grenadines, San Marino, Singapore, Slovakia, Solomon Islands, South Korea, Spain, St. Helena, Swaziland, Sweden, Slovenia, Switzerland, Taiwan (must be ordinary passport including personal identification number), Turks and Caicos Islands, United Kingdom (including British (Overseas) Citizens that are re-admissible to the United Kingdom), United States, and Western Samoa.

All others will be required to obtain a Temporary Resident Visa to enter the country. This can be done at the applicants' nearest Canadian Visa Office.

Free Import:
• Personal baggage
• Gifts
• Alcohol and tobacco: 1.5 litres (53 imperial ounces) of wine; or a total of 1.14 litres (40 ounces) of alcoholic beverages; or up to 8.5 litres of beer or ale 200 cigarettes; or 50 cigars; or 200 grams (7 ounces) of manufactured tobacco; or 200 tobacco sticks.

Prohibited items:
• Food products, plants, animals and related products
• Used or second-hand mattresses
• Health products (prescription drugs)
• Cultural property

Wearing apparel, jewelry, toiletries, fishing equipment, cameras, portable radios, and similar personal effects are exempt from duty if: they are for personal use; they belong to you; and they accompany you into and out of Canada.

Time:
UTC-5 (same time as Washington, DC during Standard Time), daylight saving time +1hr, begins second Sunday in March; ends first Sunday in November. Note: Canada is divided into six time zones

Currency:
The Canadian dollar is the currency of Canada. It is abbreviated with the dollar sign $, or C$ to distinguish it from other dollar-denominated currencies.

Credit cards
Major credit cards are almost universally accepted. In fact, it's almost impossible to rent a car or make phone reservations without one (though some airlines require your credit card billing address to be in Canada – a hassle if you're booking domestic flights once here). It's highly recommended that you carry at least one credit card; Visa and MasterCard are the most widely accepted. Carry copies of your credit card numbers separately. If your credit cards are lost or stolen, contact the company immediately.

Medical facilities and health information:
The level of public health and sanitation in Canada is high. Canada's medical care is of a high standard but is government-controlled and rationed. Quick and easy access to ongoing medical care is difficult for temporary visitors who are not members of each province's government-run health care plans. Many physicians will not take new patients. Access to a specialist is only by referral and may take months to obtain. Emergency room waits can be very long. Some health care professionals in the province of Quebec may speak only French. No Canadian health care provider accepts U.S. domestic health insurance and Medicare coverage does not extend outside the United States. Visitors who seek any medical attention in Canada should be prepared to pay cash in full at the time the service is rendered. Traveler's medical insurance is highly recommended even for brief visits.

Food and restaurants :
Food in Canada can be as diverse as the country is large. It is however very hard to avoid the myriad of chain-operated fast food venues that can be found on virtually every street corner. Naturally enough, Canadian staples of fried chicken, hamburgers, pizza and hot dogs are all well represented and there is an increasing trend towards healthier sandwich shops. Restaurants often follow with similar offerings though usually cooked to a higher standard. Of course, there are many high quality restaurants within Canada as well, particularly in the larger cities.

Many visitors to Canada are baffled by the strict adherence to tipping protocol. Not tipping appropriately is seen as either very poor manners or an expression of disgust at the service offered. Tipping percentage usually ranges from 10% to 20% of the total bill, with 15% being a relatively average tipping amount. In some cases, particularly with larger parties (say 8 or more), a 15% tip could already be added on to the bill. You should always review the bill to ensure this isn't the case before adding your own tip. It is not necessary to tip in fast food restaurants.

Electricity:
Electricity in Canada is 120 Volts, alternating at 60 cycles per second. If you travel to Canada with a device that does not accept 120 Volts at 60 Hertz, you will need a voltage converter

Fixed public holidays:
In addition to most western holidays (Christmas, New Year's, Good Friday, Easter, Labour Day), Canada has the following national holidays that aren't celebrated elsewhere:

• Canada Day — July 1
• Victoria Day — Last Monday in May before May 24
• Thanksgiving — Second Monday in October (the same day as the US holiday of Columbus Day)
• Remembrance Day — November 11 (the same date celebrated as Armistice Day in many European countries and Veterans Day in the US)

Note also that Canada's Labour Day is not celebrated on May 1, as in much of the world, but on the first Monday in September—the same day as the US celebrates its Labor Day.

Transportation in the country by air:
The best way to get around the country is by air. Air Canada is the main national carrier, and has by far the largest network and most frequent schedules. Most major airports are served by public transit.

Transportation in the country by rail:
Passenger rail service in Canada, although very safe and comfortable, is often an expensive and inconvenient alternative to other types of transport. The corridor between Windsor and Quebec City is a bit of an exception to this generalization. Make arrangements ahead of time to get lower fares. VIA Rail is the main Canadian passenger rail company.

Motoring and car hire:
Of course, many people choose to rent a car. Although somewhat expensive if you are travelling alone, this can be an economically reasonable alternative if you are sharing the costs with others. In Montreal, Toronto and Vancouver, public transit is a strongly recommended alternative to driving.

Getting around by bus:
Travel by intercity coach is available between most major cities in Canada. Service is best in the densely packed Windsor - Quebec City corridor which includes the major cities of Toronto and Montreal as well as the national capital, Ottawa. In Canada, only one company is given a license to run a particular route, as a result there is little to no competition among providers and fares can be unusually high and can be raised without notice. Routes in the prairies can be extremely long, some of them taking several days; as a result, passengers should be sure they will be able to bear sitting in a seat for 48 or more hours with only rare stops for food and toilet breaks.





National Holidays & Festivals
---
New Year's Day
January 1 every year
New Year's Day is the first day of the year. It is a public holiday, often celebrated with fireworks at the stroke of midnight as the new year starts.
---
Vancouver's skyline
Photo: Shaund
---
Canada Day
July 1
Canada Day is the national day of Canada, a federal statutory holiday celebrating the anniversary of the July 1, 1867, enactment of the British North America Act which united three British colonies into a single country, called Canada, within the British Empire. There are usually many outdoor public events, such as parades, carnivals, festivals, barbecues, air and maritime shows, fireworks, and free musical concerts.
---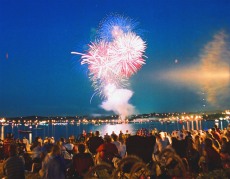 Canada Day celebrations, Barrie
Photo: DarrenBaker
---
Victoria Day
Last Monday in May before May 24
Victoria Day is a federal Canadian statutory holiday celebrated on the last Monday before May 25, in honour of Queen Victoria's birthday. Several cities will hold a parade on the holiday. Other celebrations include an evening fireworks show, such as that held at Ashbridge's Bay Beach in the east end of Toronto, and at Ontario Place, in the same city. For many across the country Victoria Day serves as the unofficial marker of the end of the winter social season, and thus the beginning of the summer social calendar.
---
Toronto view from CN tower
Photo: Agunther
---
Thanksgiving (Canada)
Second Monday in October
Thanksgiving, or Thanksgiving Day, occurring on the second Monday in October (since 1957), is an annual Canadian holiday to give thanks at the close of the harvest season. Thanksgiving is a statutory holiday in most jurisdictions of Canada. While Thanksgiving is usually celebrated with a large family meal, it is also often a time for weekend getaways. Similar to the United States, traditions such as parades and football can be a part of Canadian Thanksgiving.
---
Quebec's National Holiday, Montreal
---
National Holiday (Quebec)
June 24th every year
Quebec's National Holiday is celebrated annually on June 24th and since 1978 it is publicly financed and organized by a National Holiday Organizing Committee. It is a paid statutory public holiday and celebrated as a festival of French Canadian culture. Celebrations have included in the past fireworks over the Parliament Building of Quebec, free public concerts and parades.
---
Toronto International Film Festival
September
The Toronto International Film Festival (TIFF) is a publicly-attended film festival held each September in Toronto, Ontario, Canada. The TIFF is now one of the most prestigious film festivals in the world. In 2010, 339 films from 59 countries were screened at 32 screens in downtown Toronto venues. Many Hollywood studios premiere their films at TIFF due to the festival's easy-going non-competitive nature, relatively inexpensive costs (when compared to European festivals), eager film-fluent audiences and convenient timing.
---
Calgary Stampede rodeo
Photo: Chuck Szmurlo
---
Calgary Stampede
July
The Calgary Stampede is an annual rodeo, exhibition and festival held every July in Calgary, Alberta, Canada. It is organized by thousands of volunteers and supported by civic leaders. The ten day event attracts over one million visitors per year and features the world's largest rodeo, a parade, midway, stage shows, concerts, agricultural competitions, chuckwagon racing and First Nations exhibitions. It is one of Canada's largest festivals and a significant tourist attraction for the city. Calgary's national and international identity is very much tied to the event.
---
Canadian National Exhibition
Canadian National Exhibition (CNE) is an annual event that takes place at Exhibition Place in Toronto, Ontario, Canada during the 18 days leading up to and including Labour Day Monday. With an attendance of approximately 1.3 million visitors each season, it is Canada's largest fair and the fifth largest in North America. The fair itself consists of a variety of pavilions, exhibits, shows, concerts, a working farm, horse show, casino, and a large carnival midway with rides, games and food.
---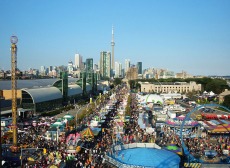 Canadian National Exhibition
Photo: JenniferHeartsU
---