THE UNITED KINGDOM

---




USEFUL INFORMATION

...from the sleek meadows of the south to the spectacularly breathtaking mountainous terrain of the North, there is something for everyone in this land of tradition. Should you have a wish for pleasant countryside walks, or pumping music festivals, England can cater for your needs...

Location:
Western Europe, islands including the northern one-sixth of the island of Ireland between the North Atlantic Ocean and the North Sea, northwest of France.

Area:
244,820 sq km

Neighbouring countries:
Ireland 360 km

Coastline:
12,429 km

Elevation extremes:
lowest point: Fenland -4 m, highest point: Ben Nevis 1,343 m

Climate:
temperate; moderated by prevailing southwest winds over the North Atlantic Current; more than one-half of the days are overcast.

Population:
59,511,464 (July 2000 est.)

Ethnic groups:
English - 81.5%,
Scottish - 9.6%,
Irish - 2.4%,
Welsh - 1.9%,
Ulster - 1.8%,
West Indian, Indian, Pakistani, and other - 2.8%

Religions:
Anglican - 27 million,
Roman Catholic - 9 million,
Muslim - 1 million,
Presbyterian - 800,000,
Methodist - 760,000,
Sikh - 400,000,
Hindu - 350,000,
Jewish - 300,000 (1991 est.)

Languages:
English, Welsh (about 26% of the population of Wales), Scottish form of Gaelic (about 60,000 in Scotland).

Getting to the UK:
There are a multitude of methods of travel into and out of the UK. Whether you choose air, sea or land travel, the UK offers transport that should suit you. There are more than 20 ports, over 300 airports, and even 12 heliports. Take the Channel Tunnel train from Brussels or Paris, or hop onto a ferry across the English Channel - it should only take 30 minutes!

Passports and visas:
EU nationals do not require a Visa - however, some other nationalities may require one. Contact the nearest British Embassy for further information.

Customs regulations:
Pets - You will need three documents in order for your dog to enter/re-enter the UK; these three documents make up your pet's "passport" (health certificate).

(1) The Pets Certificate
(2) Declaration of Residence
(3) The Certificate of Treatment against a Tapeworm and Ticks. For a copy of the official certificate that you can print and take with you on your trip please click here. It must be filled in by the French vet in coloured ink (not black) so that it does not look as though it has been photocopied.

Without an authorised and completed pet passport / health certificate your dog will be denied entry into the UK.

The transport company you use to travel to the UK will be responsible for checking your pet's passport / health certificate.

Food - Food that is canned, sealed or packaged may be brought in, but in general, no fresh produce, such as meat, fish, fruit, vegetables, plants or dairy products is acceptable. Sealed meat products may be a maximum of 1 kilo (2.2 lbs).

Drugs - Traffickers may try to trick you to carry items through customs - never do this! There are severe penalties for drug-smuggling.

Duty-free

200 cigarettes or 100 cigarillos or 50 cigars or 250 grams of tobacco
2 litres still table wine plus 1 litre of alcoholic drinks over 22% vol. or 2 litres of alcoholic drinks not over 22% vol. (i.e. fortified or sparkling wine)
2 fl oz. (60cc) Perfume
9 fl oz. (250cc) Eau De Toilette
Other goods (including gifts, souvenirs, cider and beer): maximum value = £145. Upon exceeding this limit, you must pay charges on the full value of the item.

Note: Travellers under 17 years are not entitled to bring in alcohol or tobacco goods.

For more information about moving to Britain, contact your nearest British Consulate.

Health and safety:
Use the freephone number 999 to contact any of the emergency services (Police, Ambulance, Coastguard or Fire Service).
Remember! The 999 number is for emergencies ONLY. For local services, look them up in your phonebook.

It is almost essential to take out medical and accident insurance for the whole of your visit. You will not be turned away by the medical services if you do not have this insurance, but payment may be required later.

Time:
The Meridian line goes straight through the UK, therefore the time is Greenwich Mean Time (GMT). The 24-hour clock is generally used on timetables for buses, trains, etc., so ensure that you are familiar with this before you visit the UK.

Currency:
The currency used in the UK is pounds sterling (£) - this is divided into 100 pence (which can either be referred to as "pence" or "p"). You may find British coins confusing, as the comparative sizes do not always necessarily reflect comparative value. English, Scottish, Welsh and Northern Irish notes and coins are all legal tender within each country - however, Irish currency is only legal tender in Ireland.

Credit cards, cheques and banking hours:
It may be a good idea to have enough cash on you at all times - although credit cards are accepted in most places, there may still be places where you will be unable to use a card. However, also bear in mind that you should not carry too much cash around with you, as tourists can often be a pickpocket's favourite target. Pickpockets and muggers are not common in the UK, but you should be aware that they exist.

Cheques are normally only accepted when they are from a recognised British-based banking group or corporation - you should arrange to have a cheque facility available to you, before you travel. Banks are not open all the time, so do not expect them to be open for cash withdrawals whenever you wish - however, there are nearly always cash machines available outside banks, which are usable 24 hours a day (but check that your card is acceptable before coming to the UK). Banks tend to be open Monday to Friday, from 9:30am to 4:30pm.

With regards to traveller's cheques, have your passport with you when you convert them. You might like to buy separate traveller's cheques for each member of your party, this way if one member loses theirs, you will still have funds available.

Working hours:
Opening hours vary greatly, but in general...

Information - Normal shop opening hours, i.e. 9am to 5:30pm, five or six days a week (if it is a particularly popular spot, they may also be open on Sundays).

Pubs/Wine Bars - These are not normally open all night, but are open all day and evening.

Shopping/Sales - Shops in London tend to be open longer than in other parts of the country. Other than London, other large cities and tourist spots, shops generally only open 9am to 5:30pm, five or six days a week. Sunday trading is allowed, but many stores still may not open due to restrictive laws. You will generally find that Sunday opening hours are shorter than the general hours on weekdays.

Food and Restaurants :
The UK has never been noted for its cuisine - however, you will generally find that food is of high quality, depending upon where you go. Oriental or Asian visitors may find the food unmanageable, but there are many alternatives available. Please note that sparsely populated areas such as Wales and Northern Scotland will not tend to have such a great variety as London or Edinburgh, for example. You may also find it difficult to find somewhere to eat on public holidays and Sundays, but there will normally be somewhere open, provided that you are in a reasonably populated area.

Most British accommodation provides a hearty English Breakfast. There could well also be a continental breakfast available.

Overall, you should have a good choice of food when in the UK - just ensure that you do not get caught out by public holidays and suchlike!

Electricity:
All UK domestic electrical supplies operate at 240 volts, 50Hz AC. Adapters are available in most electrical stores - you may wish to purchase one before you leave your home country, as UK stores may not stock the correct adapter for your appliances. Where an earth connection is required (on most appliances), the standard is a three-pin plug, with the pins in an upside-down "T" configuration. Double-insulated appliances such as electric razors can be used with a standard two-pin plug, often available when staying in hotels as part of the bathroom fittings - they may well accept continental appliances as well, but check before use.

Fixed public holidays:
It may be necessary to change your travelling arrangements on public holidays (often called "bank holidays"), as the roads may often be packed with people going off to the seaside, etc. The following bank holidays apply...

England/Wales
New Year - one day, early January
Good Friday & Easter Monday - dates vary
May Day - one day, early May
Spring Holiday - one day, late May
Summer Holiday - one day, late August
Christmas Day & Boxing Day - 25th & 26th December

Northern Ireland
New Year - one day, early January
St.Patrick's Day - one day, mid-March
Good Friday & Easter Monday - dates vary
May Day - one day, early May
Spring Holiday - one day, late May
Battle of the Boyne Day - one day, mid-July
Summer Holiday - one day, late August
Christmas Day & Boxing Day - 25th & 26th December

Scotland
New Year - two days, early January
Good Friday - date varies
May Day - one day, early May
Spring Holiday - one day, late May
Summer Holiday - one day, early August
Christmas Day & Boxing Day - 25th & 26th December

Transportation in the country by air:
There are around 130 licensed airports in the UK. Services are good, but domestic flights may not be as common as they are in your home country, due to the fast and comprehensive transport system(s) of the UK, and the relatively short distances that must be travelled.

London's four international airports are located some distance from London itself. If you intend driving to/from the airports be aware that the traffic around them will be heavy and fast at all times, and British motorways are not very easy to handle when you are unfamiliar with them.

All airports have shops, restaurants, taxis, fast bus and train services, hire-car services and long or short stay car parks, along with many other services, such as non-denominational chapels.

Transportation in the country by Rail:
The UK has an extensive and comprehensive rail transport system, which is quite fast and efficient. There are often leisure-trip discounts available. The ticket system is, unfortunately, quite complex, so make sure that you spend enough time at a station to discover which tickets you must purchase, and to familiarise yourself with the system for future reference. Note that there are no porters at train stations, but staff are on-hand to give help if needed.

If you wish to travel more comfortably, purchase a first-class ticket - these are very expensive. You must not use a first-class compartment unless you have paid for first-class travel.

Most trains operate at regular intervals (maybe twenty minutes, half an hour, or an hour). On public holidays and Sundays these services may be less frequent, depending upon the importance of the line.

When in London, ensure that you go to the correct station - there are many to choose from (it is the same with the underground "tube" - there are a lot of stations to choose from, so ensure that you know where you are going from/to - an underground map will help, which can be purchased from many shops, or seen on the walls of stations).

Motoring and car hire:
There are a number of internationally-recognised car-hire companies available in the UK, with a vast variety of cars. If you want something special, be sure to book ahead. Always check for hidden-costs, insurance, and AA or RAC breakdown cover, etc.

Be sure to read the Highway Code before travelling on the UK road network, and make sure you have up-to-date maps and equipment.

Speeds in the UK are still measured in miles per hour (mph). Be sure to remember this, as all road signs will be in mph!

Taxi:
Watch out for unlicensed taxi-drivers, who will rip you off. licensed cabs have a 'Hackney Carriage' licence plate on the rear, as well as a meter.

Meters operate on mileage, and there is an initial fee, called a "flag-drop". A tip is always appreciated, and perhaps 10% should be the minimum. There are many taxi firms operating outside London, who may well work on a 24-hour basis.

Travel for the disabled:
Wherever possible, the disabled have been catered for in the UK. Newer taxis may have wheelchair ramps to board the vehicle, and hotels will often have lifts and other facilities once you have reached your destination. Buses may also have specially-designed entries for wheelchair users.








Events
---
Bonfire Night
5 November
On 5th November 1605, soldiers discovered a man called Guy Fawkes in a cellar under the Houses of Parliament. With him were at least twenty barrels of gunpowder. Guy Fawkes was arrested and tortured. At last he gave way and told his torturers about a plot to blow up Parliament together with the king, James I, his ministers and Members of Parliament.

In 1606 Parliament agreed to make 5th November a day of public thanksgiving and ever since then the day has been celebrated with fireworks and bonfires.
---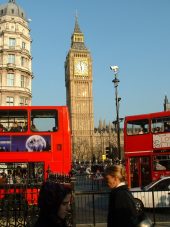 The Clock Tower
Photo: PKG
---
Chelsea Flower Show
May
Chelsea Flower Show is the world's most popular and renowned flower show. The best in gardening and horticulture is brought together in one place for one week in May.
---
Piccadilly Circus
Photo: PKG
---
Edinburgh International Festival
August
Each year the Edinburgh International Festival stages one of the greatest celebrations of the arts, attracting audiences from around the world to the city's thrilling atmosphere. The festivities offer a unique opportunity to experience the excitement of live performance by internationally renowned artists as well as the joy of discovering new and unfamiliar works.
---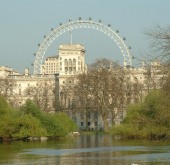 St. James Park
Photo: PKG
---
Henley Royal Regatta
June
Henley Regatta was first held in 1839. Originally staged by the Mayor and people of Henley as a public attraction with a fair and other amusements, the emphasis rapidly changed so that competitive amateur rowing became its main purpose.
---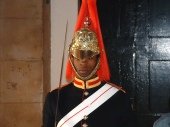 Horse Guards Parade
Photo: PKG
---
London Film Festival
November
With a host of gala screenings, special events, The Guardian Interviews, and UK, European and World Premieres, the British Film Institute's London Film Festival is the leading non-competitive event in the international cinema calendar.
---
Kenwood House
Photo: PKG
---
London International Boat Show
January
The London Boat Show is a glittering affair, with all the best in boating on display. London's Earls Court houses the international boat show with all the latest in boats, equipment, watersports and holidays.
---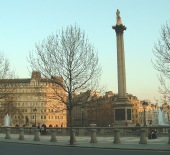 Trafalgar Square
Photo: PKG
---
London Marathon
April
Aside from being a natural arena for competitiveness and human achievement, the London Marathon is a huge asset to thousands of charities who enter athletes in the hope of raising money, usually on a sponsorship basis.
---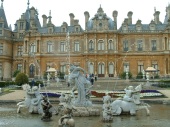 Waddesdon Manor
Photo: PKG
---
Notting Hill Carnival
August
Every August Bank Holiday the Notting Hill Carnival brings London alive. The festival began as West Indian immigrants moved into the area during the fifties and is now one of the best carnivals in the UK attracting over a million people each year. The first carnival was in 1964, and grew up from the struggle between the black West Indian community and the police. Today the carnival celebrates the diverse cultures which make up Britain's identity.
---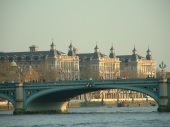 Westminster Bridge
Photo: PKG
---
Royal Welsh Show
July
This is the flagship show for WCC members. Held in the South Glamorgan Hall, which is situated close to some of the main entrances to the showground, it is also near to the livestock and show rings which attract many thousands of visitors.
---
London
Photo: PKG
---
Southampton International Boat Show
September
The biggest and best of the season's boats is on display, as well as the latest in sailing wear, equipment and great holiday offers.
---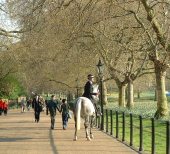 Green Park
Photo: PKG
---
State Opening of Parliament
November
The Queen formally opens the new session of Parliament each year. Accompanied by the Duke of Edinburgh she travels in the State Coach to the Palace of Westminster. Before the royal procession sets out, a detachment of the Yeomen of the Guard (dating from 1485, they are the oldest of the royal bodyguards) search the cellars of the Houses of Parliament. This tradition dates back to the Gunpowder Plot of 1605, when Guy Fawkes was arrested whilst preparing to blow up Parliament. Today the Yeomen are reinforced by police in their search.
---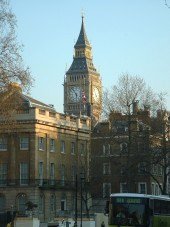 The Clock Tower
Photo: PKG