PORTUGAL

---




MADEIRA AND PORTO SANTO




GEOGRAPHY, HISTORY, LANDMARKS

The Madeira Archipelago is situated between latitude 32º22'20" and 33º7'50" with its longitude between 16º16'30W and 17º16'38"W. The island of Madeira has a surface area of 459 square miles (741 km2), (35 miles long and 13 miles wide). The island is 310 miles from the African coast and 620 miles from the European continent. The archipelago, discovered by the Portuguese in 1418, is made up of the islands of Madeira, Porto Santo and the uninhabited islands of Selvagens and Desertas.

These islands, because of their privileged geographical position and mountainous relief, have a surprisingly mild climate. Very mild average temperatures, 22ºC in the summer and 16ºC in the winter, and a moderate level of humidity.

One can reach the islands of Madeira and Porto Santo by air or sea. There are two airports: Madeira International Airport - on Madeira, and Porto Santo Airport, on the island of Porto Santo. Because the ports of Funchal and Porto Santo are often visited by cruising ships, they serve as gateways to the islands, as well as departure points to other destinations. Connections between the islands are either by air or ferryboats, which also transport cars. Surface transport on the islands is trouble-free thanks to the modern road structure, which has been significantly improved in recent years. Practically all points of these islands are served by a good road and transport network.

Funchal

Madeira's five-century-old capital is said to have been named 'Funchal' because of the abundance of fennel (funcho) that was growing there.

Funchal harbour
Photo Wikipedia

Funchal is located in an absolutely unique area. The amphitheatre of Funchal city begins at the harbour and rises almost 1200 m high on gentle slopes. This provides a natural shelter and was what once attracted the first settlers.

The best harbour and the best climate combined with an excellent geographical position allowed Funchal to have a rapid population growth.

Today Funchal is a very modern city with over 104.000 inhabitants. This does however mean that traffic congestion in the centre can become sometimes quite confusing.

Madeira Story Centre

This spectacular, interactive museum allows the visitor to go back in time on a virtual journey and 'relive' in chronological sequence the archipelago's great historic events, from its volcanic birth 14 million years ago to the first hydroplane landing in Madeira, from the times of the Infant D. Henrique to Napoleon and Churchill.

Monte Palace Tropical Garden

Open to the public since 1991 this masterpiece located in Monte was put together by José Berardo and includes one of the most important tile collections in Portugal. The tiles exhibited amidst the tropical vegetation represent several ages, coming from palaces, churches, chapels and private houses throughout the former Portuguese empire.

Contemporary Art Museum

This museum in this unique location shows a collection of Portuguese contemporary art. It organizes several exhibitions by inviting artists and works from other galleries and institutions.

Sacred Art Museum

Exhibits: Religious sculptures from the 16th to the 18th century and sacred jewellery from the 17th and 18th centuries

City's Museum

Located within the Town Hall, this museum shows the 500 years of existence of Funchal city.

Universo de Memórias

This 'Universe of Memories' (Universo de Memórias) was founded and financed by the present Secretary of Tourism, João Carlos Abreu, and reflects his life as traveler, journalist and public personality. Ten thousand pieces such as books, ceramics, paintings and bronze objects from all over the world are exhibited in 14 rooms in a house located right opposite the entrance to the Quinta das Cruzes museum. There is also a Tea House in this museum with free entrance.

Wine Museum

If you want to know more about Madeira Wine, this museum is a 'must see'. You will find anything from pictures to machinery, all related to the culture and production of wine.

The Island Coast

Away from Funchal, the coasts and interior offer a diversity of landscapes rarely found in such a comparatively small area. Volcanic in nature and blessed with sheer cliffs, blue seas and skies, verdant mountains and the most wonderful flora, Madeira Island is truly diverse. The popular south coast, sheltered from the prevailing trade breezes is the calmest, whilst the rugged north coast is a spectacle of blue, green and white as the relentless Atlantic surf outlines each cliff, bay and cove.

Madeira's Mountains

The mountains are sheer and spectacular, their tops sometimes shrouded in mist, a micro-climate all of their own; it's hard to believe that they are just a few miles from the warm sunny coast. With so many attractions to visit, why not let someone else do the driving and take a luxury coach tour of the most interesting and picturesque parts of the island.

Porto Santo

A charming sandy island is not far from Madeira though the two islands are completely different. While Madeira is generally green with a rocky and steep coastline, Porto Santo has a golden colour due to its 9 km sandy beach. The most popular way to get there is by the Ferry although flying is also an alternative.

Porto Santo
Photo Wikipedia





Festivals & Events
---
Festa do São Pedro
Sintra
Every 2nd & 4th Sunday of the month. A fair of antiques and handicrafts in the hill resort-village, north of Lisbon.
---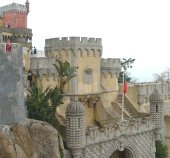 Pena National Palace
---
Flea Market

Lisbon
The flea market runs every Tuesday and Saturday from sunrise to 12 noon. This is where you will find all you could want. Lisbon's "Feira da Ladra" reminds foreigners of Paris's flea market and attracts crowds looking for that second-hand and new item bargains.
---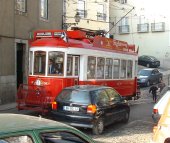 Lisbon
---
Gulbenkian Foundation
Lisbon
---
Several annual events are made by this Foundation throughout the year (ACARTE Festival; Great World Orchestras cycle; Antique Music cycle; Ballet; Festival of contemporary music) including series of concerts with some of the world's most prominent chamber orchestras, dance groups, contemporary music, classical concerts performed by the most prestigious guest soloists.
musica@gulbenkian.pt
---
Carnival
9 - 12 February
Carnival festivities throughout all of Portugal with spectacular and colorful parades of costume, namely in Lisbon, Loulé, Nazaré, Torres Vedras, Ovar, Mealhada, Viana do Castelo, Sines, Alcobaça and Funchal.
---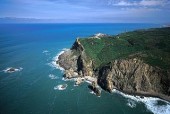 Cabo da Roca
---
Fantásporto do Porto
Porto - February
International cinema festival. Currently considered one of the most important festivals of cinema in the world. Fantasporto began in 1981 as "Mostra de Cinema Fantástico", turning into the most progessive and talked about cultural event in cimena and theater in Portugal.
---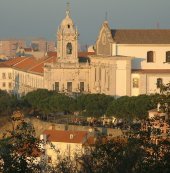 ---
Holy Week Festivities
(Festividades da Semana Santa), March
To the north, particularly noteworthy in Braga (a citadel of Christianity when most of Portugal was Moorish and still the ecclesiastical capital) and in Ovar and Póvoa de Varzim. The most important events take place on Holy Thursday and Good Friday when the imposing parades pass through the streets.
---
Flower Festival
Funchal, Madeira - April
---
On the 13th, the traditional wall of hope festivities and the 14th is the breathtaking grand parade of Madeira's capital with thousands of different types of flowers leaving behind the perfumed scent on the streets they pass.
---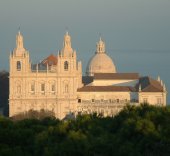 Lisbon
---
Bullfight Season
Lisbon - May
The season runs through September with fights every Thursday evening and Sunday afternoons in the Campo Pequeno bullring. In Portugal, the bulls are tackled and wrestled to a standstill, but not killed in the arena.
---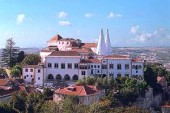 Sintra Palace
---
Pilgrimage to Fátima
Fátima - May
Fátima is about 100 km north of Lisbon. The Fátima Sanctuary is a pilgrimage site for millions of Catholics from around the world and a place of devotion for most Portuguese people. This sanctuary is one of the most important Marian sites, as Lourdes in France and Chestochowa in Poland. On the 12th there is a candlelight procession and on the 13th is the most important day when devotees and pilgrims from around the world congregate at the sanctuary to mark the anniversary of the first apparition of the Virgin Mary to the shepards in 1917.
rtleiria.fatima@mail.telepac.pt
---
Portugal's National Day and Camões Day, 10 June
Held throughout all of Portugal. This day celebrates Portugal's independence, as well as, its epic poet, Luís Vaz de Camões, who told the story of the nautical discoveries in 'Os Lusíadas' in 1572. This day has emphasis on cultural events with traditional celebrations.
---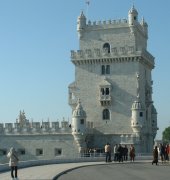 Tower of Belem
---
Sintra Music Festival, June - July
One of Portugal's most prestigious summer festivals of serious music. The World Heritage Village of Sintra (about 20 minutes from Lisbon) hosts a stage for a series of concerts and recitals by major orchestras, ensembles and performers from Portugal and abroad. Leading musicians perform at the Royal Palace in Sintra and Queluz and also includes Ballet nights in Seteais.
---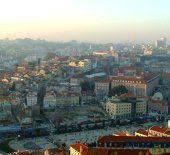 ---
Red Waistcoast Festival
(Festas do Colete Encarnado)
Vila Franca de Xira - July
This feast was named after the traditional costumes of the 'Ribatejo' horsemen. This fair includes the running of the bulls through the streets, regional folk dances competitions of the 'campinos' (cowboys), and bullfights. The highlight is Saturday night when the town parties until daybreak.
---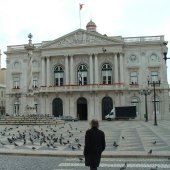 ---
National Gastronomy Festival
Santarém - October
One of the biggest gastronomical festival featuring traditional and regional foods of the entire country accompanied by Portuguese wines. Feast on the best cuisine while enjoying the traditional folklore music that Portugal has got to offer.
---