DENMARK

---




...Denmark is the world's oldest kingdom, and with its 5,2 million friendly inhabitants, no country in Europe is more accomplished at blending old world charm with new world efficiency...

USEFUL INFORMATION

Location:
Denmark is situated between the North and Baltic Seas, in Northern Europe. It is connected to the European mainland where the Jutland Peninsula borders Germany. There are about 405 mostly uninhabited islands. Copenhagen is the capital, and is situated on the largest island, which is named "Sealand". Denmark is made up of 43,000 square kilometres or 16,630 square miles (not including Greenland and the Faroe Islands) - using this measurement, it is the smallest nation in Northern Europe.

Area:
43,094 sq km

Neighbouring countries:
Germany 68 km

Coastline:
7,000 km

Climate:
Mild. From June until August, the average daily temperature is 19.5 degrees centigrade, whereas in February (which is the coldest month) the average falls to a chilly but reasonable 1.2 degrees centigrade. Therefore, Copenhagen bears has much the same climate as London or Amsterdam.

Elevation extremes:BR> Lowest point: Lammefjord -7 m,
Highest point: Ejer Bavnehoj 173 m

Population:
Denmark is very densely populated with a population of about 5.2 million people.

Ethnic groups:
Scandinavian, Inuit, Faroese, German

Religions:
Protestant churches in large cities will usually have English services once a week. Copenhagen has several such services.

Languages:
Danish, Faroese, Greenlandic (an Inuit dialect), German (small minority)
note: English is widely spoken

Getting to Denmark:
Copenhagen International Airport is the focus of air traffic in Northern Europe, as it is served by over 60 international airlines flying from 130 cities around the world. Other airports, such as Billund Airport in Jutland have flights to several European cities.

No domestic flight is longer than 45 minutes, as distances are short and domestic travel is quick. Travel in Denmark should be easy and comfortable, as fast intercity trains, a marvellous network of motorways, bridges and ferries make travelling to and within Denmark comfortable and easy.

Passports and visas:
Up to three months: only a valid passport required. (Although an entry or transit visa may be required by for some nationalities).

Consult a Danish embassy or consulate for further information.

Customs regulations:
The cessation of duty-free sales between EU countries has not changed the amount of tobacco and spirits which can be brought in. When travelling to Denmark the following can be brought into the country:
1.5 litres alcohol,
300 cigarettes or,
75 cigars or,
400g smoking tobacco

Sparkling wine, table wine, beer, perfume, etc. is allowed in without restriction if it is only for personal use. For more information, contact Danish diplomatic representatives.

Health and safety:
No vaccinations, health certificates or suchlike are required when entering Denmark.

Water can be drunk from the tap throughout the country.

Dial 112 for the police, fire department, or hospital in an emergency. Municipal authorities supply emergency medical care, and hotel staff can direct you to emergency centres, hospitals, and the like. Danish public hospitals give emergency medical treatment for free. Reasonable fees for non-emergency cases are usually payable in cash. If you take prescribed medication, take a supply large enough to last throughout the trip as some medicines may not be available in Denmark. Contact Danish diplomatic representatives for more information.

Time:
GMT + 1 hour. Danish summer time is from the last Sunday in March to the last Sunday in October, and is when clocks are put forward one hour.

Currency:
The Danish Krone (DKK) is the main unit of currency, and is divided into 100 øre (There are 50-øre and 25-øre coins). Bank notes are found in DKK 50, 100, 200, 500 and 1000, whilst coins are found in DKK 20, 10, 5, 2, 1.

Credit cards and banking hours:
Banks are generally open 9.30am-4pm on weekdays (Thursdays until 6pm). The Copenhagen central station and Airport banks stay open longer. Copenhagen banks may open until 5pm on weekdays, and several exchange bureaux are open until 10pm. Cash dispensers are situated outside many banks, and the main cards that will be accepted are Eurocard, Visa, Cirrus and Mastercard. Hotels, restaurants and shops may well also accept international credit cards. Eurocheques and other well known traveller's cheques will be cashed by banks and many hotels, restaurants and shops. Personal cheques will not be accepted.

Working hours:
Shops are allowed to open from Monday 6am to Saturday 5pm, but generally-speaking the opening hours on weekdays are from 9/9.30am to 5.30pm (7pm fridays). Shops in tourist areas, especially Copenhagen, may well stay open much longer.

Food and Restaurants :
Lunch : 12 noon to 2 PM (many lunch restaurants may serve from 11 AM until later).
Dinner : 6 PM until 9 PM (many restaurants are open later).

Smørrebrød (open-faced sandwiches) are opular at lunch. Two or three will make a meal, and they only cost DKK 15 to DKK 45 each. Dinner can generally be said to be about DKK 175-350 per person to eat in better establishments. "Dagens Ret" (Today's Special) will be cheaper, and bottles of wine in restaurants start at approximately DKK 120.

Ethnic restaurants are becoming more popular, and here, dinner can often be less expensive than at other establishments.

Special menus for diabetics are common, and nearly all have a selection of vegetarian dishes.

Electricity:
220 volts AC (50 Hz) is the standard. It is possible that plugs will differ from those in your home country, so bring a two-pin continental adapter with you.

Fixed public holidays:
New Year's Day, 1 January;
Maundy Thursday, March (varies);
Good Friday, Easter Sunday,
Easter Monday, March/April (varies);
Common Prayer Day, April (varies);
Ascension Day, April/May (varies);
Whit Sunday, May (varies);
Whit Monday, May/June (varies);
Constitution Day, 5 June;
Christmas Eve, 24 December;
Christmas Day, 25 December;
Boxing Day, 26 December;
New Year's Eve, 31 December;

On Constitution Day, Christmas Eve, Christmas Day, and New Year's Day shops, banks, restaurants and museums close from 12 noon. Restricted hours apply to public holidays for the rest of the year

Regions of Denmark :
North Jutland, West Jutland, East Jutland, South Jutland, Funen, Langeland & Ærø, Bornholm, Sealand, Lolland, Falster & Møn, North Sealand, Copenhagen.

Transportation in the country by air:
Flight times are short - you can be on the other side of the country in less than an hour. Also, domestic airfares are often discounted.

SAS, Maersk Air, Cimber Air and British Airways Express offer flights from Copenhagen to the following towns:
From Copenhagen to Jutland:
Billund (Maersk Air),
Esbjerg (Cimber Air),
Karup (SAS & Cimber Air),
Vojens (Danish Air Transport),
Sønderborg (Cimber Air),
Aalborg (SAS & Cimber Air),
Aarhus/Tirstrup (SAS & Cimber Air),
Thisted (British Airways/Sunair).

From Copenhagen to Bornholm:
Rønne (Maersk Air).

Transportation in the country by Rail:
You can board the train for Copenhagen Central Station, at Copenhagen Airport, which is useful with it's many links with the rest of Denmark. The train station at the airport can be found next to the terminal building where your luggage is returned to you. You can purchase train tickets at the Airport DSB Travel Centre, which is situated right next to the exit.

There is an hourly departure directly to Funen and Jutland on the Intercity trains on all weekdays, stopping at only the Copenhagen Central Station, whilst the Malmo-trains (Kystbanen) run from Copenhagen Airport to Copenhagen Central Station with 3 departures every hour, making two stops between the airport and the Copenhagen Central Station. The journey to the city takes just 12 minutes!

There is one departure every hour on the regional train for Roskilde, but do note that this train calls neither at the local stations at T?rnby and ?restad nor at the Copenhagen central station.

Motoring and car hire:
Local car-hire companies can be found in Denmark, but most international companies are represented. Rental is roughly DKK 500-800 per day, to which you must add a fee for number of kilometres and insurance. Most companies have special weekend offers.

The minimum age stipulated for car hire is 20, but many car hire companies have a limit of 25 years. Several companies require payment by credit card.

Most petrol stations are self-service and are open 7 days a week from 8am -10pm. Most stations have self-service pumps that are in service 24 hours a day and accept paper currency as payment. Foreign credit cards cannot be used at automatic pumps. They may be used as payment at terminals or at the cash desk.

Drivers should carry a warning triangle. Driver and passengers must wear seatbelts at all times. Dipped headlights are required at all times and should be masked with special European opaque material available from most garages in the UK & Ireland.

Speed limits are 110 kph (66mph) on motorways, 80 kph (46mph) on other roads, and 50 kph (30mph) in built-up areas.

When parking, visitors should buy a parking ticket from a nearby vending machine and display the ticket behind the windscreen. Sometimes time-limited parking is free but a special parking disc must be used. These are available at service stations in Denmark.

In case of breakdown by the roadside, motorists should use the emergency telephones available on motorways to call "Falck", the Danish motorist's aid organisation. Falck staff will, if they cannot repair the car on the spot, tow it to a garage (charging a fee, of course). Falck is open 24-hours a day.

Taxi:
There are taxis available in all cities and most towns in Denmark, and drivers usually speak English. A vacant taxi carries the sign 'Fri' (free) in the window, (green light on top of the car). You can hail a taxi off the street or pick one up at the many taxi stands throughout the city or town - or simply ask the hotel to call a taxi.

Travel for the disabled:
- disabled visitors can profit from the many facilities generally available to disabled citizens: many restaurants, hotels, camping sites, hostels, attractions, and public toilets provide facilities for the disabled, and the accessibility on trains and ferries and at airports are adjusted to the requirements of disabled citizens. Most ships and many ferries that sail into and out of Danish waters offer special cabins and wide elevators for disabled passengers. In all its intercity trains, Danish State Railways provides a toilet for the disabled. Special lifts and ramps are available to get wheelchairs onto and off trains.

Festivals and Fairs
---
Roskilde Festival
June/July
Over 29 years more than 1,500 bands played Roskilde to more than one and a half million people. Great attention and excitement characterise the event, which is updated every year both musically and practically.
Havsteenavej 11, 4000 Roskilde, Denmark. Tel: (+45) 46 36 66 13. Fax: (+45) 46 32 14 99
---
The Skagen Festival June/July
The Skagen Festival is in its 31st year, and today it is known as one of the leading international ballad/folk music festivals of Europe. The Skagen Festival is the oldest Danish music festival.
PO Box 33, 9990 Skagen, Denmark. Tel: (+45) 98 44 49 69. Fax: (+45) 98 44 63 77


---
The Copenhagen Jazz Festival
July
The festival includes approx. 500 concerts performed by Danish and international jazz artists. The clubs and small cafes in Copenhagen are a vital part of the jazz festival. Many kinds of jazz music ranging from New Orleans Jazz, swing and fusion to new experimental music.
Nytorv 3, 3. - DK-1450 Copenhagen K - Tel: (+45) 33 93 20 13 - Fax: (+45) 33 93 20 24
---
Photo: Marianne Grøndahl
---
The Mosstock Festival
August
One of the oldest and greatest festivals in the country. As usual the Program includes samples of many different types of amateur music current in Denmark at this time
---
---
Images from Denmark
Courtesy of the
Danish Tourist Board
The Crown Jewels at
Rosenborg Castle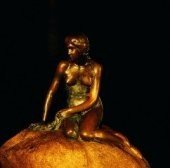 The Little Mermaid Statue
by Edvard Eriksen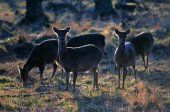 Deer in the forest
Photo: Jreneusz Cyranek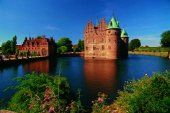 Egeskov Castle, Funen
Photo: Bob Krist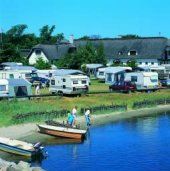 Camping
Photo: John Sommer
Rendez-vous at
the Amaliehaven
Photo: Henrik Stenberg