AUSTRIA

---




KLAGENFURT

Klagenfurt. The Rose of the Wörthersee

Klagenfurt, the capital of Austria's southernmost state, Carinthia, with its numerous parks and small villas, seems more like a resort town rather than a bustling business center. Framed by mountain ranges to the north and south, Carinthia has deservedly become one of Austria's most popular vacation spots. There is good reason for this: Carinthia, and especially Klagenfurt, are always in season - whether you're looking for sports, culture, shopping, walks in the old city, or simply some relaxation. The range of things to do is virtually inexhaustible -there's literally something for everyone.


Renaissance, Castles and Sidewalk cafés

During the sixteenth and seventeenth centuries, Italian architects laid the foundation for the city's southern aura, one that has prevailed to this day. Many of the romantic courtyards and arcades (some fifty throughout the city!) may be viewed during a walk through Klagenfurt; they have been restored and now accommodate coffee-houses, restaurants, souvenir shops, art galleries, and, during the summer, sidewalk cafés. A shopping excursion through Klagenfurt's old city center thus turns out to be an atmospheric and relaxing experience. During August, the city offers a wonderful summer festival called Altstadtzauber (The Magic of the Old City) in the center of Klagenfurt - among many other attractions, it also contains a large flea market.

Copyright © Austrian National Tourist Office

A chain of twenty-three castles encircles Klagenfurt like a pearl necklace. Many of these historic buildings are such a short distance from Klagenfurt or, indeed, within the city limits, that one may simply "drop in," as it were. Some of them offer cultural performances, others feature restaurants with fine cuisine, and still others, such as Mageregg Castle, with remnants of a sixteenth-century moat, make their animal sanctuaries accessible to visitors. You may also rent a bike and explore the beauties of Maria Loretto and the view of the lake which it overlooks. A visit to Hochosterwitz Fortress, dating from the ninth century and at a somewhat greater distance from Klagenfurt, should be planned in advance - this beautiful and well-preserved castle, perched high above a rocky hill, dominates the nearby landscape, and deserves at least an entire afternoon. Not too far off is beautiful twelfth-century Gurk Cathedral, which is located in one of Corinthia's most idyllic valleys.

A visitor to Klagenfurt should definitely pay his respects to Klagenfurt's landmark fountain, the Lindwurmbrunnen - depicting a dragon of legend who has obviously been tamed by the people of Klagenfurt. Transformed into a stone landmark in the center of the town, it now spits water rather than fire. Another "must-see" is the hall of coat of arms (Wappensaal) in Klagenfurt's Landhaus - where one may admire the splendid and astonishing trompe l'oeil portrait of Charles V.

---

* Information is courtesy of the Austrian National Tourist Office

















Festivals & Events
---
Spanish Riding School
The Spanish Riding School in Vienna is one of Austria's most known attractions. Please note that seating as well as standing room at the Imperial Palace Home of the Spanish Riding School is limited.
Info-Hotline:
Tel: (+431) 533 90 31
Fax: (+431) 533 90 32 40
---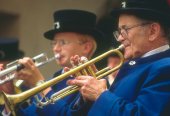 ---
Vienna Boys' Choir
(Wiener Sängerknaben)
An Austrian cultural institution, the Vienna Boys Choir can usually be heard Sunday mornings at the Imperial Palace Chapel and various concert performances.
---
Bruckner Festival Linz
September 15 - October 6
Numerous classical concerts with world renown orchestras and soloists in Anton Bruckners hometown. The Festival is ushered in each year by the Linz Cloud of Sounds.
Tel: ++43-732-77 52 30
kassa@liva.at
---
Vienna Music Film Festival
Annually in July and August
Famous opera performances on screen, masterful concert interpretations every evening under the stars with the splendid backdrop of Vienna's City Hall Free admission nightly during the summer months.
Vienna City Hall Park
---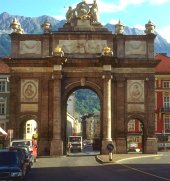 ---
Music Festival
(as part of the Vienna Festival)
May 1 to June 16
The Vienna Festival concerts are the highlights of Vienna's concert season. The world's most renowned orchestras, conductors and soloists will be performing, among them in 2002: the Berlin Philharmonic Orchestra directed by Claudio Abbado and the Wiener Philharmoniker (Vienna Philharmonic Orchestra) directed by Sir Simon Rattle.
---
Osterklang Wien
Annually around Easter time
The music festival is opened by Bach's "Passion of St. Mathews" performed by the Wiener Philharmoniker under Nikolaus Harnoncourt at the Musikverein. Concerts at the Musikverein, the Konzerthaus and the Hofburgkapelle, a scenic oratorio performed at Odeon and an Easter Night concert at St. Stephen's cathedral round off the program. tickets@osterklang.at
---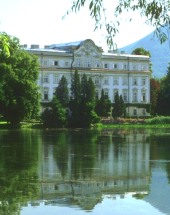 ---
Vienna State Opera
One of the most famous opera houses in the world, program runs from September through June each year.
Tel: ++43-1-513 1 513 (ticket sales one month prior to desired performance)
---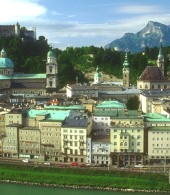 ---
Melk Abbey
Lower Austria
Mid April to Mid November
This Benedictine Abbey was founded in 1089 and is a major representation of Austrian Baroque architecture. Melk Abbey is overlooking the Danube River and can easily be visited during any Wachau Valley excursions.
---