AUSTRIA

---




USEFUL INFORMATION

In Austria, you come face to face with natural beauty and culture whether you are simply walking along one of the many cobblestone lanes, visiting a small country church, or standing awe-struck before a magnificent country abbey. Among the abiding images of Austria are the Vienna Philharmonic Orchestra, the Lipizzan stallions of the Spanish Riding School and the Vienna Boys' Choir. Then of course there is the Music!

Location:
Central Europe, north of Italy and Slovenia.

Area:
83,858 sq km

Neighbouring countries:
Czech Republic 362 km, Germany 784 km, Hungary 366 km, Italy 430 km, Liechtenstein 35 km, Slovakia 91 km, Slovenia 330 km, Switzerland 164 km

Coastline:
0 km (landlocked)

Climate:
Temperate; continental, cloudy; cold winters with frequent rain in lowlands and snow in mountains; cool summers with occasional showers

Elevation extremes:
lowest point: Neusiedler See 115 m
highest point: Grossglockner 3,798 m

Population:
8,150,835 (July 2001 est.)

Ethnic groups:
German 98%, Croatian, Slovene, other (includes Hungarians, Czechs, Slovaks, Roma)

Religions:
Roman Catholic 78%, Protestant 5%, Muslim and other 17%

Languages:
German

Capital:
Vienna

Getting to Austria:
Vienna is Austria's main air transport hub, but there are international airports at Linz, Graz, Salzburg, Innsbruck and Klagenfurt. If you're visiting Austria from outside Europe, it may be cheaper to fly to a European 'gateway' city and travel overland from there. Munich, for example, is only two hours by train from Salzburg. Technically there's no departure tax when flying out of Austria, instead you are charged a 'passenger service charge' of around US$15.

Passports and visas:
VISAS: Required by all except the following:

(a) nationals of EU countries and nationals of Liechtenstein, Norway, Iceland and Switzerland for an unlimited period;

(b) 1. nationals of Andorra, Argentina, Australia, Bolivia, Brazil, Brunei Darusalaam, Bulgaria, Canada, Chile, Costa Rica, Croatia, Cyprus, Ecuador, El Salvador, Estonia, Guatemala, Honduras, Hong Kong (SAR), Hungary, Israel, Korea (Rep. of), Latvia, Lithuania, Macau (SAR), Malaysia, Malta, Mexico, Monaco, New Zealand, Nicaragua, Panama, Paraguay, Poland, Romania, San Marino, Singapore, Slovak Republic, Slovenia, Uruguay, USA, Vatican City and Venezuela for stays of up to 3 months;

(c) nationals of Czech Republic for stays of up to 1 month;

(d) nationals of Japan for a period of up to 6 months;

(e) transit passengers continuing their journey by the same or first connecting aircraft provided holding valid onward or return documentation and not leaving the airport.

Nationals of Afghanistan, Bangladesh, Eritrea, Ethiopia, Ghana, Iran, Iraq, Liberia, Nigeria, Pakistan, Somalia, Sri Lanka and Congo (Dem Rep) passing through Austria always require a transit visa, even when not leaving the airport. Transit passengers are advised to check transit regulations with the relevant Embassy or Consulate before travelling.

Austria is a signatory to the 1995 Schengen Agreement. There are three main types of Schengen visa: Short-stay (Tourist and Business), Transit and Airport transit.

Customs regulations:
The following goods can be taken into Austria without incurring customs duty by travellers over 17 years arriving from countries outside the EU:

200 cigarettes or 100 cigarillos or 50 cigars or 250g tobacco;
1 litre of spirits over 22% or 2 litres of fortified wine or spirits up to 22% or 2 litres of sparkling wine or liqueur and 2 litres of still wine;
1 bottle of eau de cologne (up to 250ml);
60ml of perfume

Health and safety:
No immunizations are required for entry. Water in urban areas is generally safe to drink, and good medical care is widely available. Milk is pasteurised and dairy products are safe for consumption. Local meat, poultry, seafood, fruit and vegetables are generally considered safe to eat. In terms of personal safety, this is a relatively safe country.

Rabies is present in Austria, although there have been no incidents reported in recent years. For those at high risk, vaccination before arrival should be considered. If you are bitten seek medical advice without delay.

The following emergency numbers are used:
Police: 133;
Ambulance: 144;
Fire: 122.

Time:
Austria is one hour ahead of Greenwich Mean Time. The clock goes forward 1 hour at 1:00 on the last Sunday in March and back to normal time at 1:00 on the last Sunday in October.

Currency:
Euro

Credit cards
Credit & debit cards: Most major credit cards and Eurocheque cards are accepted in large cities and tourist areas. However, credit and debit cards are less widely accepted in Austria than they are in the USA or the UK and some smaller hotels may require bills to be paid in cash.

Travellers cheques: These are widely accepted. To avoid additional exchange rate charges, travellers are advised to take travellers cheques in a major currency (Euros, US Dollars, Pounds Sterling).

Hiking in Austria:
Austria is ideal for a hiking vacation. There is hiking available in all parts of Austria with a vast network of hiking paths, marked, mapped and maintained by various Alpine associations and by local tourist authorities. The far-flung hut system in the Austrian Alps makes it possible to go on long cross-country hikes, another popular variation are "hikes without luggage" (guided tours with the bags left behind in the morning and waiting for the participants in the evening in their rooms).

Ski Holidays
Austria has over 800 winter sports resorts to choose from, over 14,000 miles of groomed pistes to ski and snowboard on and 500 ski schools to help you start or perfect your skiing experience.

Apart from excellent snow conditions, superb facilities and marvelous mountain vistas, Tirolean ski resorts are famous for catering for every taste. Most of the resorts are ancient villages marked by culture and tradition and they just as famous for the legendary après ski in the mountain inns! Contact your nearest Travel Agent for details on ski resorts, weekend skiing, or all-inclusive packages.

Biking
Cycling has become one of the most popular ways to experience the unique Austrian countryside, small towns and cities.

Bikes may be rented at most locations in Austria. Bicycles can also be transported on the baggage cars of most trains. For mountainbikers permanent circuits and mountainbike centres have been established, package arrangements are available.

World Cultural Heritage sites :
The United Nations Educational, Scientific and Cultural Organization's (UNESCO) World Cultural Heritage List is a short index of some of the world's most precious sites. It is no small feat to satisfy the stringent criteria of the UNESCO for any site to be included on this list. Monuments, groups of buildings, works of man or combined works of nature and man have to be of "outstanding value from the point of view of history, art or science." Austria has six sites that have thus far been included in UNESCO's prestigious list.

Working hours
Banking
Mon-Wed and Fri: 0800-1230 and 1330-1500; Thu: 0800-1230 and 1330-1730. Banks are closed on Saturdays and Sundays. The exchange counters at airports and main railway stations are usually open from the first to the last plane or train, i.e. from 0800-2200 seven days a week.

Business
Mon-Fri: 0800-1230, 1300-1730 (many offices/companies do not work Fridays pm).

Government
Mon-Fri: 0800-1230, 1300-1730 (many offices/companies do not work Fridays pm).

Shops
Mon-Fri: 0800-1930; many shops close for two hours at midday. Sat: 0800-1700.

Electricity:
Voltage:A.C. 220 volts

Fixed public holidays:
Jan 1 2002 New Year's Day.
Jan 6 Epiphany.
Apr 1 Easter Monday.
May 1 Labour Day.
May 9 Ascension Day.
May 20 Whit Monday.
May 30 Corpus Christi.
Aug 15 Assumption.
Oct 26 National Holiday.
Nov 1 All Saints' Day.
Dec 8 Immaculate Conception.
Dec 25 Christmas Day.
Dec 26 St Stephen's Day.

Transportation in the country by air:
AIR: Vienna is connected to Graz, Klagenfurt, Linz and Salzburg by Tyrolean Airways (VO). Rheintalfung (WE) also operates internal services.

Charter: A number of companies offer chartering services for single- and twin-engined aircraft and executive jets.

Transportation in the country by Rail:
Oesterreichische Bundesbahnen (OBB) (Austrian Federal Railways) runs an efficient internal service throughout Austria. There is a frequent intercity service from Vienna to Salzburg, Innsbruck, Graz and Klagenfurt, and regular motorrail services through the Tauern Tunnel. Local information can be obtained on Tel: (1) 1717.

Throughout Austria, up to two children under six years who are accompanied or require no seat travel free and a third child qualifies for a 50 per cent discount. Children aged 6-15 pay half fare. Senior citizens (women 60 and over and men 65 and over) may buy train and bus tickets at half price after purchasing an ID card available at all Austrian railway stations.

Motoring and car hire:
Self-drive and chauffeur-driven services available at railway stations, airports and in major cities. Rates per day vary with size of car, plus additional charge per kilometre, and fuel is extra, although weekly hire attracts cheaper initial rates. VAT at 20 per cent (32 per cent if rental over 21 days) must be paid but a 'green card' (third party motor insurance) is compulsory. The speed limit is 100kph on most roads and 130kph on motorways, in built-up areas it is 50kph, unless otherwise stipulated.

EU issued driving licenses are required, permitting the holders to drive in Austria for one year. Minimum driving age is 18.





Festivals & Events
---
Spanish Riding School
The Spanish Riding School in Vienna is one of Austria's most known attractions. Please note that seating as well as standing room at the Imperial Palace Home of the Spanish Riding School is limited.
Info-Hotline:
Tel: (+431) 533 90 31
Fax: (+431) 533 90 32 40
---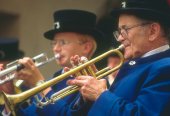 ---
Vienna Boys' Choir
(Wiener Sängerknaben)
An Austrian cultural institution, the Vienna Boys Choir can usually be heard Sunday mornings at the Imperial Palace Chapel and various concert performances.
---
Bruckner Festival Linz
September 15 - October 6
Numerous classical concerts with world renown orchestras and soloists in Anton Bruckners hometown. The Festival is ushered in each year by the Linz Cloud of Sounds.
Tel: ++43-732-77 52 30
kassa@liva.at
---
Vienna Music Film Festival
Annually in July and August
Famous opera performances on screen, masterful concert interpretations every evening under the stars with the splendid backdrop of Vienna's City Hall Free admission nightly during the summer months.
Vienna City Hall Park
---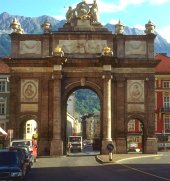 ---
Music Festival
(as part of the Vienna Festival)
May 1 to June 16
The Vienna Festival concerts are the highlights of Vienna's concert season. The world's most renowned orchestras, conductors and soloists will be performing, among them in 2002: the Berlin Philharmonic Orchestra directed by Claudio Abbado and the Wiener Philharmoniker (Vienna Philharmonic Orchestra) directed by Sir Simon Rattle.
---
Osterklang Wien
Annually around Easter time
The music festival is opened by Bach's "Passion of St. Mathews" performed by the Wiener Philharmoniker under Nikolaus Harnoncourt at the Musikverein. Concerts at the Musikverein, the Konzerthaus and the Hofburgkapelle, a scenic oratorio performed at Odeon and an Easter Night concert at St. Stephen's cathedral round off the program. tickets@osterklang.at
---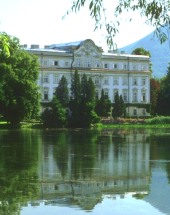 ---
Vienna State Opera
One of the most famous opera houses in the world, program runs from September through June each year.
Tel: ++43-1-513 1 513 (ticket sales one month prior to desired performance)
---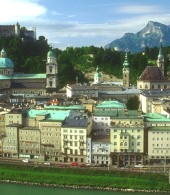 ---
Melk Abbey
Lower Austria
Mid April to Mid November
This Benedictine Abbey was founded in 1089 and is a major representation of Austrian Baroque architecture. Melk Abbey is overlooking the Danube River and can easily be visited during any Wachau Valley excursions.
---