ITALY

---

USEFUL INFORMATION

Italy is renowned for its great tourist tradition, its unique artistic heritage, its beautiful cities, and its landscapes. With a history going back three millennia, Italy is one of the most popular vacation countries in Europe, all seasons being good for a visit. Ancient travellers referred to it as the "Land of Wines" so it is no surprise that to this day, Italian hospitality is as warm as a glass of fine wine!

Location:
Southern Europe, a peninsula extending into the central Mediterranean Sea, northeast of Tunisia.

Area:
301,230 sq km

Neighbouring countries:
Austria 430 km, France 488 km, Holy See (Vatican City) 3.2 km, San Marino 39 km, Slovenia 232 km, Switzerland 740 km

Coastline:
7,600 km

Climate:
Predominantly Mediterranean; Alpine in far north; hot, dry in south

Elevation extremes:
lowest point: Mediterranean Sea 0 m
highest point: Mont Blanc (Monte Bianco) 4,807 m

Population:
57,679,825 (July 2001 est.)

Ethnic groups:
Italian (includes small clusters of German-, French-, and Slovene-Italians in the north and Albanian-Italians and Greek-Italians in the south)

Religions:
Predominately Roman Catholic with mature Protestant and Jewish communities and a growing Muslim immigrant community

Languages:
Italian (official), German (parts of Trentino-Alto Adige region are predominantly German speaking), French (small French-speaking minority in Valle d'Aosta region), Slovene (Slovene-speaking minority in the Trieste-Gorizia area)

Capital:
Rome

Getting to Italy:
Italy's national airline is Alitalia. A great number of major international airlines operate direct flights to various destinations in Italy from the USA, Canada, Australia and Europe. Owing to the number of flights available, ticket prices vary greatly and there is a wide range of discount fares and special tickets available.

Airport facilities include bureaux de change, left luggage, restaurants, bars and duty-free shopping. Buses, trains and taxis all run to the city centre.

Air travel within Italy is expensive, making it a less attractive option than travel by train or bus. Buses are fast and reliable for local routes linking small villages as well as the major autostrade between cities. They also reach destinations not serviced by the trains. State and private railways service the country and are generally simple, cheap and efficient. Ferries service Sicily from Naples, while Sardinia can be reached from Genoa, Livorno and Naples. If you want to see more of the country, renting a car is a great way of getting off the beaten track. Roads are generally good throughout the country, and there is an excellent network of freeways, although you do have to pay tolls.

Passports and visas:
PASSPORTS: Passport valid for 6 months required by all except:
nationals of Austria, Belgium, Croatia, Finland, France, Germany, Greece, Italy, Liechtenstein, Luxembourg, Malta, Monaco, Netherlands, Portugal, San Marino, Slovenia, Spain, Sweden and Switzerland with a valid national ID card.

VISAS: Required by all except the following for stays of up to 90 days:
(a) nationals of Britain, Australia, USA, Other EU countries and Japan;
(b) nationals of Andorra, Argentina, Bolivia, Brazil, Brunei, Bulgaria, Chile, Costa Rica, Croatia, Cyprus, Czech Republic, Ecuador, El Salvador, Estonia, Guatemala, Honduras, Hungary, Iceland, Israel, Korea (Rep. of), Latvia, Liechtenstein, Lithuania, Malaysia, Malta, Mexico, Monaco, New Zealand, Nicaragua, Norway, Panama, Paraguay, Poland, Romania, San Marino, Singapore, Slovak Republic, Switzerland, Uruguay, Vatican City and Venezuela;
(c) transit passengers continuing their journey to a third country by the same or connecting aircraft within 48 hours, provided holding tickets with reserved seats and valid documents for onward travel (except nationals of Afghanistan, Bangladesh, Congo (Dem. Rep.), Eritrea, Ethiopia, Ghana, India, Iran, Iraq, Nigeria, Pakistan, Senegal, Somalia and Sri Lanka, who always require a visa). As the preceding list is liable to change at short notice, visitors are advised to check transit regulations with the relevant Embassy or Consulate before travelling.

Austria is a signatory to the 1995 Schengen Agreement. There are three main types of Schengen visa: Short-stay (Tourist and Business), Transit and Airport transit.

Visa details must be verified by contacting the nearest Italian Consulate before travelling.

Customs regulations:
The following goods may be imported into Italy without incurring customs duty by passengers over 17 years of age arriving from countries outside the EU with goods bought duty free:

200 cigarettes or 50 cigars or 100 cigarillos or 250g of tobacco;
2 litres of wine and 1 litre of spirits (over 22 per cent) or 2 litres of fortified or sparkling wine;
50g of perfume and 250ml of eau de toilette;
500g of coffee or 200g of coffee extract;
100g of tea or 40g of tea extract.

Health and safety:
Tourists requiring urgent medical care should go to the nearest hospital emergency room (airports and many train stations also have medical teams and first aid facilities). Those with serious illnesses or allergies should always carry a special note from their physicians certifying in detail the treatments in progress or that may be necessary.

Pharmacies (Farmacia), generally follow shops times (approx. from 8:30 a.m. to 12:30 p.m. and from 3:00 to 7:30 p.m., Monday to Saturday, but in large cities many are open non-stop. Night-time service is provided on a shift basis. Business hours and night shifts are displayed outside of each chemist's (they are also published in local papers). Before departure, it is advisable to procure a document certifying coverage by the national health-care service.

For Medical Emergency dial 118

Time:
Italy is one hour ahead of Greenwich Mean Time. The clock goes forward 1 hour at 1:00 on the last Sunday in March and back to normal time at 1:00 on the last Sunday in October.

Currency:
Euro

Credit cards
Travellers cheques, cheques and foreign money can be changed at banks, railway stations and airports, and very often at main hotels (generally at a less convenient rate). Check with banks for details and current rates.

Credit & debit cards: MasterCard, Diners Club and Visa are widely accepted, as well as Eurocheque cards. Check with your credit or debit card company for merchant acceptability and other facilities which may be available.

Travellers cheques: Travellers cheques are accepted almost everywhere. To avoid additional exchange rate charges, travellers are advised to take travellers cheques in Euros, Pounds Sterling or US Dollars.

Thermal spas in Italy:
In this field Italy has taken up and developed a practice which has been widespread through-out the peninsula since the time of the Romans, when thermal waters and baths were already a typical feature of town life. Interest in the Italian spas is not exclusively for health care reasons. Their proximity to great centers of art makes the spa resorts excellent bases for cultural excursions. In addition the splendid parks surrounding the most famous spas, and the infrastructure which has been created for leisure activities, make them ideal holiday resorts in their own right. Italian thermal spas are not only those which exploit hot water resources (as the literal meaning of the word "thermal" might suggest) since mineral water springs are now also generally included in this category.

Camps/Caravans
Camping is very popular in Italy. The local Tourist Office in the nearest town will give information and particulars of the most suitable sites. On the larger campsites it is possible to rent tents/caravans. There are over 2100 campsites and full details of the sites can be obtained in the publication Campeggi e Villaggi Turistici In Italia, published by the Touring Club Italiano (TCI) and Federcampeggio. An abridged list of sites with location map, Carta d'Italia Parchi Campeggio, can be obtained free of charge by writing to Centro Internazionale Prenotazione, Federcampeggio, Casella Postale 23, 50041 Calenzano (Firenze) (tel: (055) 882 391; fax: (055) 882 5918). The Italian State Tourist Office (ENIT) may also be able to supply information.

The tariffs at Italian campsites vary according to the area and the type of campsite. There are discounts for members of the AIT, FICC and FIA. Usually there is no charge for children under three years of age. The Touring Club Italiano offers campsites already equipped with fixed tents, restaurants, etc.

For details contact Touring Club Italiano, Corso Italia 10, 20122 Milano (tel: (02) 85261; fax: (02) 852 6406; e-mail: infotouring@touringclub.it

To book places in advance on campsites belonging to the International Campsite Booking Centre, it is necessary to write to Centro Internazionale Prenotazioni Campeggio, Casella Postale 23, 50041 Calenzano (Firenze), asking for the list of the campsites with the booking form.

Youth Hostels
There are 54 youth hostels run by the Italian Youth Hostels Association (Associazione Italiana Alberghi per la Gioventù), Via Cavour 44, 00184, Rome; e-mail: aig@uni.net . Listings and opening dates can be obtained from the Rome Tourist Office, Via Parigi 5, 00185 Rome ;e-mail: apt.roma@libero.it . During the summer season in the major cities, reservations are essential and must be applied for directly from the hostel at least 15 days in advance, specifying dates and numbers. There are also student hostels in several towns.

World Cultural Heritage sites :
The United Nations Educational, Scientific and Cultural Organization's (UNESCO) World Cultural Heritage List is a short index of some of the world's most precious sites. It is no small feat to satisfy the stringent criteria of the UNESCO for any site to be included on this list. Monuments, groups of buildings, works of man or combined works of nature and man have to be of "outstanding value from the point of view of history, art or science." Italy has over 35 sites that have thus far been included in UNESCO's prestigious list.
Rock Drawings in Valcamonica
Church and Dominican Convent of Santa Maria delle Grazie with "The Last Supper" by Leonardo da Vinci
Historic Centre of Florence
Venice and its Lagoon
Piazza del Duomo, Pisa
Historic Centre of San Gimignano
I Sassi di Matera
The City of Vicenza and the Palladian Villas of the Veneto
Historic Centre of Siena
Historic Centre of Naples
Crespi d'Adda
Ferrara, City of the Renaissance and its Po Delta
Castel del Monte
The Trulli of Alberobello
Early Christian Monuments and Mosaics of Ravenna
Historic Centre of the City of Pienza
18th-Century Royal Palace at Caserta with the Park, the Aqueduct of Vanvitelli, and the San Leucio Complex
Residences of the Royal House of Savoy
Botanical Garden (Orto Botanico), Padua
Cathedral, Torre Civica and Piazza Grande, Modena
Archaeological Areas of Pompei, Herculaneum and Torre Annunziata
Villa Romana del Casale
Su Nuraxi di Barumini
Portovenere, Cinque Terre, and the Islands (Palmaria, Tino and Tinetto)
Costiera Amalfitana
Archaeological Area of Agrigento
Cilento and Vallo di Diano National Park with the Archeological Sites of Paestum and Velia, and the Certosa di Padula
Archaeological Area and the Patriarchal Basilica of Aquileia
Historic Centre of Urbino
Villa Adriana (Tivoli)
City of Verona
Isole Eolie (Aeolian Islands)
Assisi, the Basilica of San Francesco and Other Franciscan Sites
Villa d'Este, Tivoli
Historic Centre of Rome, the Properties of the Holy See in that City Enjoying Extraterritorial Rights, and San Paolo fuori le Mura

Electricity:
The electrical current in Italy is AC - the cycle is 50Hz 220 V. Plugs have round prongs, not flat.

Fixed public holidays:
Jan 1 2002 New Year's Day.
Jan 6 Epiphany.
Apr 1 Easter Monday.
Apr 25 Liberation Day.
May 1 Labour Day.
Aug 15 Assumption.
Nov 1 All Saints' Day.
Dec 8 Immaculate Conception.
Dec 25 Christmas Day.
Dec 26 St Stephen's Day.

Transportation in the country by air:
Domestic service is operated by Alitalia and a few affiliated companies. Flights can be booked at ticket counters in major cities and at authorized travel agencies. Recently, Alicard was introduced: a credit card valid for domestic Alitalia flights that offers discounts and other advantages. Alitalia and affiliated companies offer special rates for young people, adults over 60, tourist groups, and families. They also grant special rates for travel on weekends (Saturday and Sunday) and at certain times of the year.

Airport check-in time for domestic and international flights varies from 30 to 60 minutes before boarding. For information, call 800-050350. Alitalia's main office is in Rome, at Viale Alessandro Marchetti phone 06 65621. To book domestic flights, call 147-865641; to book intemational flights, 147-865642.

Transportation in the country by Rail:
The Italian railway network, managed by the Ferrovie dello Stato (FS) is the State Railway, spans over 16,000 km. Connections with France run along the Nice-Ventimiglia-Genoa coastline and through the Frejus tunnel via Modane, Bardonecchia, and Turin.

The lines from Switzerland run through the Sempione Pass tunnel and across Ticino Canton from the Chiasso border crossing towards Milan. The Brennero and Tarvisio lines link Italy to Austria and then to central and western Europe. There are also a few private railway companies. The rail network is adequately developed and widespread, especially between major urban centers and tourist areas.The railway is connected to the two main islands, Sardinia and Sicily, by means of ferries departing from Civitavecchia (Rome) and Villa San Giovanni (Reggio Calabria). The fastest trains operate on the networks between the major cities while the regional trains are fairly slow. It is also quite cheap and efficient.

Motoring and car hire:
Renting a car in Italy is very expensive. It is much cheaper to rent a car from an agency before leaving home. Check with your credit card company before investing in insurance through your rental agency. Most credit card companies cover this when the rental is purchased with the card.

In order to rent a car in Italy, the driver must be over 21 and have had a valid driver's license for over a year. Many rental firms insist on an international driver's license for citizens of non EU countries.





Festivals & Events
---
Vinum Bonum
This is a very special period in Valley Veneggia just south of Bolzano and just north of the upper tip of Lake Garda. For the entire month of August there are musical concerts held in a variety of the 27 wine-gowing 'cantinas' in the valley selected by a governing board for the high quality of the wines they produce. The tastings all begin at 4:30 in the afternoon and conclude at 7:00 PM and are only held on Tuesdays, Thursdays and Fridays.
---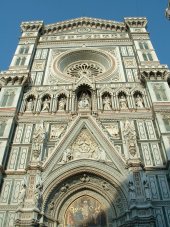 St. Maria del Fiore, Florence
Photo: BPG
---
International Piano Festival - Amalfi
July and August
The Chiostro del Paradiso is the setting for concerts by Italian and foreign pianists who alternate playing every Friday.
---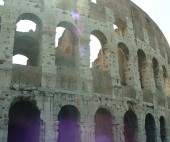 The Colosseum, Rome
Photo: BPG
---
MUSICAL WEEKS
Siena
August
Accademia Musicale Chigiana
Via di Città 89 - 53100 Siena
Tel. 39 0577 46152
Fax 39 0577 288124

Spoleto
June - July
Associazione Festival dei Due Mondi
Piazza Duomo 8 - 06049 Spoleto
Tel. 39 0743 220320 or 45028 or 40619
Fax 39 0743 220321
e-mail: spoletofestival@krenet.it

Torre del Lago Festival Pucciniano
August
Torre del Lago Puccini
Piazzale Belvedere 4 - 55048 Viareggio (Lucca)
Tel. 39 0584 350562
Fax 39 0584 350277 or 350562

Umbria Umbria Jazz
July
"Associazione Umbria Jazz"
P.O. Box 228 - 06100 Perugia
Tel. 39 075 62432
Fax 39 075 5730053

Viterbo Baroque Music Festival
August
Palazzo Santoro - Piazza Verdi 4/A 01100 Viterbo
Tel.39 0761 326666
---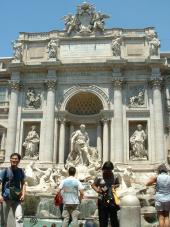 The Trevi Fountain, Rome
Photo: BPG
---
Ivrea Carnival
Early January
(lasts for 5 days)
In 2001 the carnival celebrated its 194th edition, but the area had started celebrating the events as early as the 1600s. The fight for liberty, when the men of Ivrea "expelled" the Marquis of Monferrato, is recreated with the Battles of the Oranges, which substitute stones. To make it fun there are several orange throwing "teams", all sporting colorful uniforms. The Carnival also has a lot of parties, food events and music.
---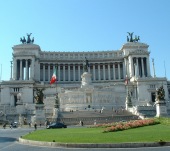 Vittorio Emanuele Monument, Rome
Photo: BPG
---
San Gennaro - Naples
September
San Gennaro, patron saint and protector of Napoli, stands for many as a symbol of the city itself, and his festival is one of the most passionately celebrated in all of Italy.
The festival ideally culminates in the miracle of the liquefaction of the blood of San Gennaro, which takes place every year more or less on the date of the festival. Many accept the divine nature of the event, and it is incontestable that the blood liquefies, but experts obviously differ on why or how this happens.
---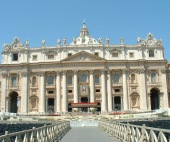 St. Peter's Basilica, Rome
Photo: BPG
---
Easter Sunday Florence
The annual 'holy fire' during Holy Week, is started with historical shards of the Holy Sepulchre, and is lit in the Church of SS Apostoli and transported to the Duomo, where the archbishop of the city lights the sacred 'Colombina' rocket with it during the Easter Mass. The rocket travels out of the Duomo along a wire, sets fire to the huge array of fireworks attached to the ICARRO and returns back into the church the way it came.
The celebration of the ceremony still bears a strong resemblance to the way in which it has been celebrated for centuries. On the morning of the day the Carro, pulled by two white oxen, leaves from Via del Prato for the Piazza del Duomo, accompanied by costumed revellers and various city officials and clerical representatives.
---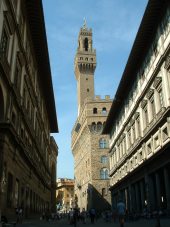 Palazzo Vecchio, Florence
Photo: BPG
---
The Palio delle Contrade, Siena
July
A banner, decorated with an image of the Virgin Mary, is presented to the winner of a horse race around the Siena's Piazza del Campo. Competitors come from each one of the 17 districts of the city.
The race consists of bareback riders making three circuits of the main square and is over in 90 seconds. But it is preceded by 5 hours of flag throwing acrobatics around the main square.
---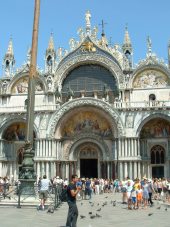 St. Marco Basilica, Venice
Photo: BPG
---
Viareggio
February - March
Every year The Viareggio Carnival is the most spectacular in Italy, and is known world-wide. The people of Viareggio begin preparing the huge papier-maché puppets in hangar-like buildings by the sea. The figures satirise public and political figures; making them and setting them atop the floats requires considerable technical skill as well as creativity and imagination.
The voluminous floats parade around Viareggio competing for the finest float award from 2.30pm until 9pm on the following dates: 11, 18, 25, 27 Feb and 4 March, each one carrying about 200 people in costume, as well as the huge moving, Trojan horse-like puppets, which hold people inside to manoeuvre the weights, counter-weights and levers that prevent them from toppling over.
---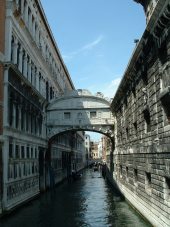 The Bridge of Sighs, Venice
Photo: BPG
---