BELGIUM

---




USEFUL INFORMATION




Belgium is the ideal destination for business or pleasure.. Situated only a short hop away from London, Paris and Amsterdam, it's beautiful medieval cities and towns are open to visitors all year round. From fabulous medieval cities, rich museums, elegant shopping, and lively local markets to festivals and folklore, opera and jazz, Belgium has it all. A visitor could enjoy all of that and more as well as sampling some famous beers and exquisite chocolate!

Location:
Western Europe, bordering the North Sea, between France and the Netherlands.

Area:
30,510 sq km

Neighbouring countries:
France 620 km, Germany 167 km, Luxembourg 148 km, Netherlands 450 km

Coastline:
66 km

Climate:
Temperate; mild winters, cool summers; rainy, humid, cloudy

Elevation extremes:
lowest point: North Sea 0 m
highest point: Signal de Botrange 694 m

Population:
10,258,762 (July 2001 est.)

Ethnic groups:
Fleming 58%, Walloon 31%, mixed or other 11%

Religions:
Roman Catholic 75%, Protestant or other 25%

Languages:
Dutch 58%, French 32%, German 10%, legally bilingual (Dutch and French)

Capital:
Brussels

Getting to Belgium:
Belgium has two international airports, the main one being Zaventem, 14km north-east of Brussels. The other one, Deurne, is close to Antwerp and has less frequent flights to Amsterdam, London, Liverpool and Dublin only. Depending on when you leave, flights to London can be cheaper from Deurne. If you're in Europe already, a bus or train is the best option. Eurolines and Hoverspeed Citysprint operate international bus services to and from Belgium. Belgium Railways has frequent international services. Brussels has three main stations, with lines in all directions.

Passports and visas:
PASSPORTS: must be valid for at least 3 months beyond length of stay required by all except:
(a) 1. EU nationals holding a valid national ID card;
(b) holders of national ID cards issued to nationals of Iceland, Liechtenstein, Malta, Monaco, San Marino and Switzerland.

VISAS: Required by all except the following for periods not exceeding 3 months:
(a) nationals of Britain, Australia, Canada, USA, Other EU countries and Japan as well as those referred to under passport exemptions above;
(b) nationals of Andorra, Argentina, Bolivia, Brazil, Brunei, Bulgaria, Chile, Costa Rica, Croatia, Cyprus, Czech Republic, Ecuador, El Salvador, Estonia, Guatemala, Honduras, Hong Kong (SAR), Hungary, Iceland, Israel, Korea (Rep. of), Latvia, Liechtenstein, Macau (SAR), Malaysia, Malta, Mexico, Monaco, New Zealand, Nicaragua, Norway, Panama, Paraguay, Poland, Romania, San Marino, Singapore, Slovenia, Switzerland, Uruguay, Vatican City and Venezuela for a stay of up to 3 months.
Belgium is a signatory to the 1995 Schengen Agreement. There are three main types of Schengen visa: Short-stay (Tourist and Business), Transit and Airport transit.

Customs regulations:
The following goods may be taken into Belgium without incurring customs duty by travellers aged over 17 years arriving from non-EU countries:

200 cigarettes or 100 cigarillos or 50 cigars or 250g of tobacco;
2 litres of wine;1 litre of spirits or 2 litres of sparkling wine or 2 litres of fortified wine;
50g of perfume and 250ml of eau de toilette;
500g of coffee; 100g of tea.
Prohibited items: Unpreserved meat products. Other unpreserved foodstuffs must be declared.

Health and safety:
No immunisations are required for entry. Medical facilities are widely available in Belgium. Medical care is expensive but of a high standard. Some risks include Lyme disease during the summer in the Ardennes area; guard against tick bites. Rabies is present. If you are bitten, seek medical advice without delay. For those at high risk, vaccination before arrival should be considered.

The country enjoys a relatively low crime rate, but travellers should take reasonable precautions against petty crime.

Time:
Belgium is one hour ahead of Greenwich Mean Time. The clock goes forward 1 hour at 1:00 on the last Sunday in March and back to normal time at 1:00 on the last Sunday in October.

Currency:
Euro

Credit cards
Credit & debit cards: MasterCard, American Express, Diners Club and Visa are accepted as well as Eurocheque cards. Check with your credit or debit card company for details of merchant acceptability and other services which may be available.

Travellers cheques: Widely accepted. To avoid additional exchange rate charges, travellers are advised to take travellers cheques in Euros, Pounds Sterling or US Dollars .

Youth Hostels:
There are two youth hostel associations: the Vlaamse Jeugdherbergcentrale (VJHC) which operates in Flanders, and the Centrale Wallonne (CWAJ) operating in the French-speaking area. The hostels of the former are large, highly organised and much frequented by schools and youth groups; the hostels of the CWAJ are smaller and more informal, similar in some ways to those in France.

Camping/Caravaning
The majority of campsites are in the Ardennes and on the coast; many of these are excellent. A list of addresses, rates and other information can be obtained from the Belgian Tourist Office - Brussels & Ardennes or Tourism Flanders-Brussels (see above). The local Verblijftaks or Taxe de Séjour is a tax usually included in the rates charged. On the coast during the summer season a supplement of about 25 per cent is charged on the majority of tariffs. Camping out in places other than the recognised sites is permitted, provided the agreement of the landowner or tenant has been obtained.

Food and Drink :
In addition to its excellent quisine, Belgium has enjoyed an unparalleled reputation for its speciality beers since the Middle Ages. Connoisseurs favour the beers for their variety, real flavour and character. Belgian beers come in a range of colours - from pale to black - and a range of types. The Lambic is yeasty, Gueuze is fruity, Kriek is sweet, and Trappiste is brewed by monks in monasteries throughout Belgium.

If you are a chocolate lover then you have come to the right place! Belgium produces 172,000 tons of chocolate per year and has 2,130 chocolate. Pralines in Belgium are sublime chocolate confections, the highest achievement of the chocolate maker art: A beautifully sculpted chocolate shell concealing a centre of filling explodes with a surprise of texture and flavour in your mouth. Many chocolatiers still make their pralines by hand. Every town and even small villages have chocolate stores with luxurious pralines. The more dedicated chocoholics should visit some of the chocolate museums and factories in the country. The Chocolate Passion festival is held around Valentine's weekend on the Grand Sablon in Brussels

Antiques
Whether you do your antique shopping in the classy Sablon area, picking through Chinese screens or by flashlight early on Sunday morning at the flea market, the hunt in Belgium can be as entertaining as the purchase. Belgium has been the centre of the art world for centuries. Choose from museum-quality stores in major cities to antique markets in smaller towns. Belgium offers an incredible wealth of antiques, art deco objects, old books, fine crystals or just plain interesting junk.

Electricity:
Voltage:A.C. 220 volts - 50 cycles. Plugs are of the round 2-pin type.

Fixed public holidays:
Jan 1 2002
New Year's Day.
Apr 1 Easter Monday.
May 1 Labour Day.
May 9 Ascension Day.
May 20 Whit Monday.
Jul 21 Independence Day.
Aug 15 Assumption.
Nov 1 All Saints' Day.
Nov 11 Armistice Day.
Dec 25 Christmas Day.

Transportation in the country by air:
No domestic air transportation is available; trains are suggested

Transportation in the country by Rail:
Belgium has a dense railway network with hourly trains on most lines. On the main lines there are more frequent trains. Weekend return fares are available from Friday (after 19:00) to Sunday for the outward journey and on Saturday and Sunday for the return journey (on long holiday weekends these periods are extended). A 50 per cent reduction card, valid for one month, is for sale. It entitles the holder to buy an unlimited number of half-price single tickets.

Motoring and car hire:
Car rental services are widely available. Some firms offer weekly rates including unlimited mileage. Both self-drive and chauffeur-driven cars are available, and the major international and European car-hire companies are in operation.

Biking
Half of Belgium is flat and is called Flanders; the other half is hilly and is called the Ardennes. The choice is yours. Belgium has miles of bicycle paths along canals, from town to town, from castle to castle or from quaint cafés to gastronomic restaurants.

Taxi:
Plentiful in all towns. The tip is included in the final meter price.





Festivals & Events
---
Jan Van Eyck and the Mediterranean World
24 March - June
The first exhibition dedicated to early Netherlandisch painting and its influence on the Southern European art scene of its days looks at works commissioned from Jan Van Eyck and other Flemish Primitives working abroad. Major works from all over Europe will be brought together in one of the finest museums in Bruges.
---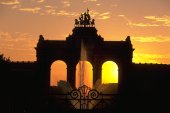 Brussel jubel park
Author: d. de Kievith
© Toerisme Vlaanderen
---
The Brueghel Enterprise
22. March - 23. June 2002
The exhibition will bring together about forty paintings by this artist who is well-known for having made an abundant number of copies after the works by his father Pieter Bruegel the Elder. The exhibition aims to juxtapose different versions of the same composition and to study and analyse them with state-of-the-art laboratory techniques. It will be the first time ever that such an important number of versions is gathered. The exhibition is designed around four themes, each of them centred on a reference work: Census in Bethlehem, Winter Landscape with Bird Trap, The Adoration of the Magi in the Snow and The Farmer's Advocate.
---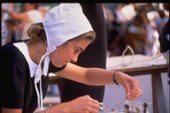 Brugge lace-maker
Author: d. de Kievith
© Toerisme Vlaanderen
---
Adriaan Brouwer Beer Festival
Yearly festival on the market square of the beautiful town of Oudenaarde.
Tel: (32-55) 31-7251
---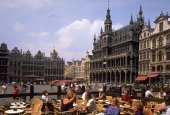 Brussel Grand Place
Author: d. de Kievith
© Toerisme Vlaanderen
---
Jazz Brugge 2002
August - 15-18
De Werf's European Jazz Festival is to be held alternating with the Middelheim festival, i.e. every second year. Its venue will be the newly built, for the Brugge 2002 festivities, concert centre, a modern building with the largest stage in Belgium and capacity of 1400 seats. Its emphasis will be on European jazz and artists. There will be 3 to 4 groups per day, concerts starting around 15h and ending at 23h.
---
Brugge scenic view
Author: d. de. Kievith
© Toerisme Vlaanderen
---
Diamon Museum - Antwerp
Where the entire process of diamond mining and processing can be viewed.. Antwerp is the very centre of the world's diamond industry. More than 70% of the world's diamonds are cut, polished and traded here.
---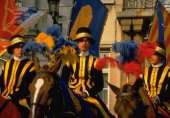 Brussel procession
Author: A. Koprianov
© Toerisme Vlaanderen
---
The Royal Greenhouses
April 19 - May 5
The Royal Greenhouses in Laeken cover six acres of neo-classical rotundas, domes and galleries. Twenty full time gardeners tend the giant ferns, fruit-bearing banana trees, grottoes, glades and grassy vistas. Highlights include the Azalea House, the rotunda, a colony of birds and the orange trees. Walkways are filled with climbing geraniums and fuschias, whose blossoms form an overhead canopy. The visit ends with a short walk through the Royal Park.
---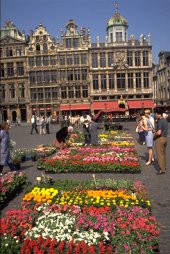 Brussel Grand'Place flowers
Author: J. J. Soenen
© Toerisme Vlaanderen
---
The Abbey of Villers-la-Ville
The Cistercian Abbey dates back to the 12th century. In the 19th century, a large number of artists, painters and writers, such as Victor Hugo, were attracted by the beauty of the majestic ruins, which are still sometimes used as a dramatic setting for French drama and classical concerts.
---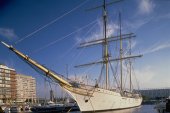 Oostende Mercator
Author: d. de Kievith
© Toerisme Vlaanderen
---